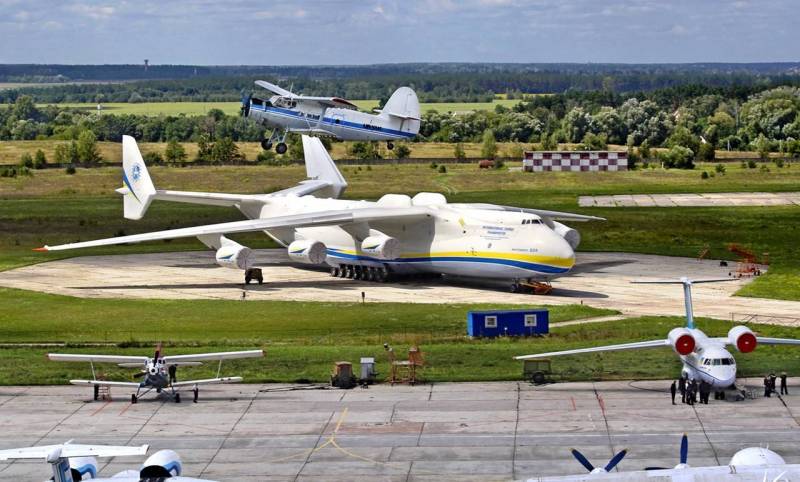 Ukrainian state enterprise "Antonov" may cease to exist, becoming a victim of corrupt officials. With the loss of this enterprise, Ukraine will turn from a global player in the world transport aviation market into a third world country. This was stated on the air of the YouTube channel "Khvilia" by the ex-head of the company Alexander Los, who frankly spoke about the problems and gloomy prospects of the Ukrainian aircraft industry.
Elk is categorically against the re-profiling of the international airport "Antonov" (until the beginning of the 2000s - "Gostomel") 25 km from Kiev. He explained that testing of new and refurbished (upgraded) aircraft is being carried out at this site. At the same time, the Ukrainian authorities want to make this object a branch of the international airport "Kiev" them. I.I.Sikorsky (in the everyday life of Zhuliany).
After that, you can forget about factory flight tests of products. Checks are simply dangerous when planes are constantly approaching or taking off around. Consequently, the production of aircraft will be discontinued for reasons beyond the control of aircraft manufacturers, since any manufacturer must have its own airfield, where it can conduct testing at any time.
We are moving towards the fact that in the near future "Antonov" can become a place of looting
- Elk emphasized.
According to Los, in the near future, Antonov State Enterprise risks losing $ 3 billion, and in the long term - the ability to produce aircraft in general. Elk included infrastructure, tangible assets and "some of the incorrectly valued, underestimated or deliberately underestimated intellectual property" in the above figure for possible losses.
For Ukraine, Antonov is both a symbol and a value. If Ukraine loses it as an aircraft manufacturing enterprise, it will turn into a third world country
He summed up.
We remind you that Elk worked as a designer at this enterprise for 18 years. For the past four months, he has been president of the company. More recently, among the representatives of the Ukrainian delegation, he
flew
to Turkey. Then he spoke about the possibility of completing the An-225 "Mriya" and radiated "patriotism and optimism." Now he says what he thinks, since he is no longer a leader.