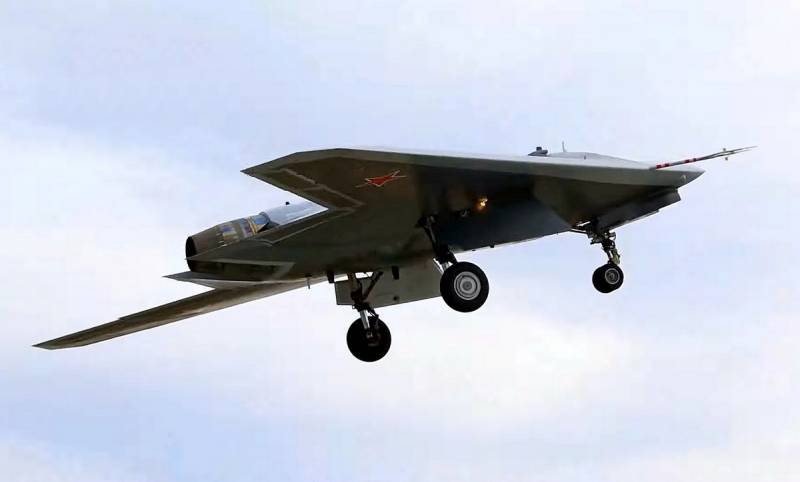 Russian heavy attack drone S-70 "Okhotnik" has tested air-to-air missiles. Probably, he is destined for the role of not only a bomber, but also a fighter-interceptor, writes the American edition of The Drive.
It became known that the "Okhotnik" conducted flight tests for the first time, having made several sorties with new ammunition. They were carried out at the Ashuluk training ground in the Astrakhan region of Russia. Details are not yet known, but if this is true, then this will be a significant step for the Russian Aerospace Forces, which expect to take it into service in 2024.
Testing at the location indicated is not a surprise. There is the 185th Center for Combat Training and Combat Use. This is the only facility of its kind in Russia. There, it was possible to create conditions as close as possible to combat ones, using air defense and electronic warfare systems, as well as the air of a simulated enemy.
The Okhotnik was equipped with mock-ups that simulate air-to-air missiles as much as possible. They had all the necessary characteristics and homing heads (infrared and radar). The mock-ups did not have engines and a warhead, but they were not needed during tests without launches.
Unfortunately, it is not known what targets the "Okhotnik" had, how the information exchange and the target designation process took place. In addition, the Russians did not say what kind of ammunition was involved in testing, and where they were (on suspensions or in internal compartments).
In this regard, it can be assumed that the imitation was carried out with ammunition already in service or at an advanced stage of development.
The main means of close combat in the RF Aerospace Forces are the R-73 and R-74M missiles. The K-74M2 is in development, which will be equipped with the fifth generation Su-57 fighters. These missiles will be launched from the inner compartments of the Su-57, so there is a possibility that they are suitable for the "Okhotnik".
The main medium-range weapons are the R-77 and R-77-1 missiles. At the same time, the K-77M missile is being tested, which is also intended for the internal compartments of the Su-57.
The drone is being developed by Sukhoi as part of the Assault and Reconnaissance Unmanned Complex (URBC) program. This program has a high priority, as the Russian Aerospace Forces increasingly want to use unmanned
Technology
... The Hunter was first shown in 2019.
The Russians clarified that the tests will assess the interaction of the avionics of the slave drone with missile guidance systems and the head aircraft Su-57. This suggests that the Russian Aerospace Forces are going to use the Hunter as an addition to the Su-57 and as a means to help overcome certain design flaws of the fighter.