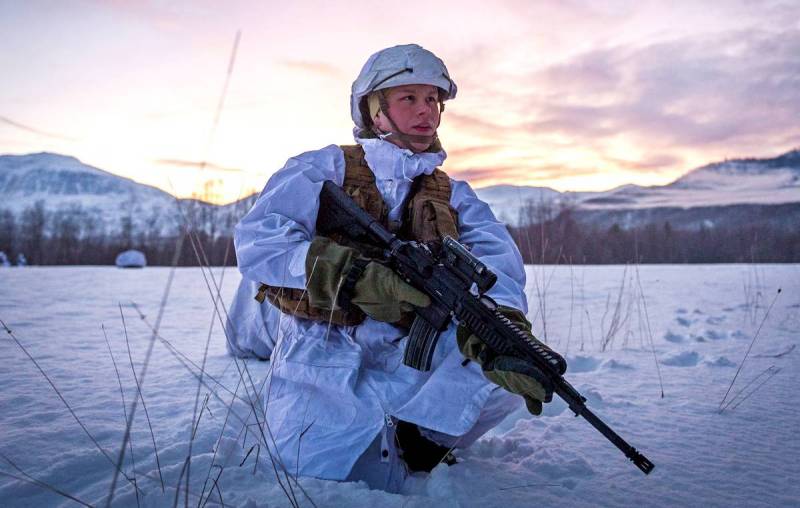 Norway itself is provoking Russia by militarizing its High North and inviting the United States there, writes Professor Turmud Heyer on the High North News website, commenting on a recent government report to the kingdom's parliament.
According to the military expert, the report appears to "continue
policies
, which is mainly aimed at tough confrontation with Russia. Benefiting from the protection of the United States, Oslo refuses to respect and consider any interests of Moscow, preferring only uncompromising pressure.
This tactic, in turn, forces the Russian Federation to respond symmetrically, increasing its military activity in order to protect its interests in the region. In particular, we are talking about the defense of the most important submarine bases.
Russians take action to counter the growing American presence that Norway is pushing in the High North

- says Heyer.
In his opinion, the Norwegian tactics at the active invitation of the United States do not bode well in the end.
This "invitation policy" increases the strategic importance of Northern Norway for Russia and America, making it difficult to achieve the declared goals outlined in the report, such as peace, stability and predictability.

- the text says.
The policy of the Scandinavian country is becoming an ever greater problem for the Russian Federation.
Russia [...] is concerned that Norway will be used as a staging ground for US operations against Russia's most important foreign policy instrument: nuclear forces, which are only 40-120 kilometers from the border

- continues Heyer.
The expert believes that the latest government document in Norway, which actually encourages the expansion of the American presence, will contribute to the escalation.
Norway must build its own defenses as quickly as possible. Thus, the authorities will have the opportunity to demonstrate their presence in the regions bordering the Russian Federation.

- the expert is convinced.
In the meantime, the Norwegian strategy towards Russia is only to arrange a "tough confrontation" with the help of American forces. However, in the event of a military crisis, first of all, the local residents, subjects of the kingdom, will suffer.
It is noteworthy that this is not the first material from the Norwegian press that the government in Oslo, because of the broad back of Washington, is behaving arrogantly and unreasonably towards its eastern neighbor. The riskiness of such a policy is often pointed out, which could one day lead to devastating consequences.