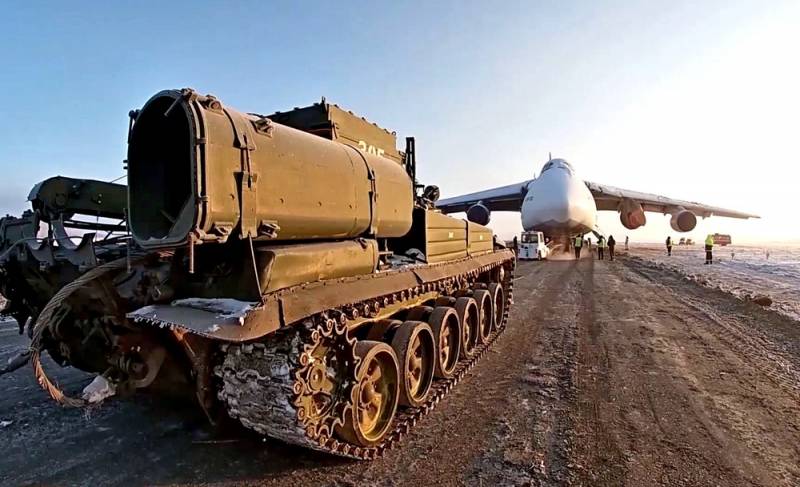 On November 13, 2020, an An-124 Ruslan cargo plane with registration number RA-82042 made a planned landing at Novosibirsk Tolmachevo airport in southwestern Siberia, en route from Seoul to Vienna international airport. After preparing for the second phase of the flight, the plane took off at about noon local time. But soon radio communication with the Ruslan was lost, and the An-124, having made a circle, began to prepare for an emergency landing. The English-language portal Simple Flying drew attention to the incident.
Witnesses on the ground talked about smoke coming from the # 2 engine of a flying plane. According to The Aviation Herald, the captain of the An-124 reported an explosion of the left engine at an altitude of about 300 meters immediately after the landing gear was retracted, as a result of which the transport's electronic systems were damaged.
Unable to decelerate smoothly, the An-124 flew past the runway and lost the front landing gear when hitting a snowy mountain, causing the front of the aircraft to slide on the ground. After the Ruslan stopped, all 14 passengers on board managed to safely evacuate.
During an emergency landing, the aircraft rolled off the runway, damaging the front landing gear and elements of the airframe. To evacuate the huge 180-ton aircraft, the Russian army had to be involved. The only vehicles that could have pulled the Ruslan back to the runway were armored recovery and recovery BREM-1s linked in a bundle.
BREM-1 is a Russian tracked armored personnel carrier based on the T-72 tank. This recovery vehicle was developed in the 1970s for transporting damaged tanks from the battlefield, Popular Mechanics recalls. BREM-1 is equipped with a V-46 diesel engine with a capacity of 800 hp. and can tow loads weighing up to 120 tons, so two such armored personnel carriers were required to transport the An-124.
Moscow's Domodedovo airport also operates one BREM-1, but it is painted in bright orange and black, which indicates that the vehicle is a rescue vehicle. The BREM-1s in Novosibirsk were the standard dark green color of the Russian army, suggesting that they came from a nearby military base.