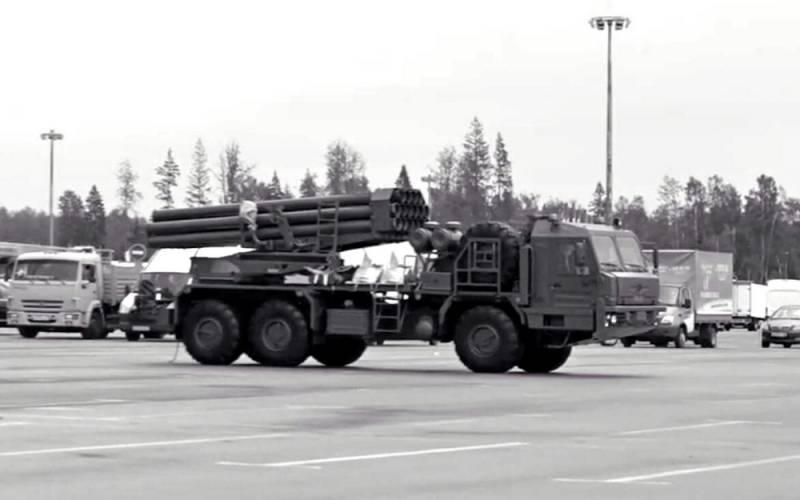 The 9K57 "Uragan" multiple launch rocket system on the BAZ-69092 chassis was lit up on the Web. Before that, the products of the Bryansk Automobile Plant (part of the Almaz-Antey VKO concern) had not yet been seen in such a design.
It should be noted that the 9K57 "Uragan" is a Soviet 220 mm MLRS with 16 guides. The basic variant of the chassis for them is the ZIL-135LM. But they are technologically outdated, since they have been produced since 1963.
In 1995, in Bryansk, work began on the design of a chassis based on the BAZ-6910 "Voshchina-1" for a new MLRS, but due to lack of funding at the end of 1996, all work was stopped. Later, Belarus jumped in and offered its chassis for Russian MLRS - MZKT-7930 "Astrologer". On its basis, in 2016, the Russian bicaliber (220 mm / 300 mm) MLRS 9K512 Uragan-1M was created with a batch replacement of guides. She was capable of firing rocket-propelled ammunition from the 9K57 "Uragan" and 9K58 "Smerch". Moreover, both combat and transport-loading vehicles were made on the specified chassis.
No one doubts the need to replace the ZIL-135LM. The desire to transplant the MLRS to the BAZ, abandoning the Belarusian tractors, is also quite understandable. Bryansk products are cheaper, and in light of the uncertainty of further
political
the prospects of Belarus, all the more relevant. The appearance of the 9K57 "Hurricane" image on the BAZ-69092 chassis suggests that Russia is well aware of this, since they have taken this issue seriously. There is no doubt that a powerful and experienced enterprise in Bryansk will cope with the task, it is not the first time for him.