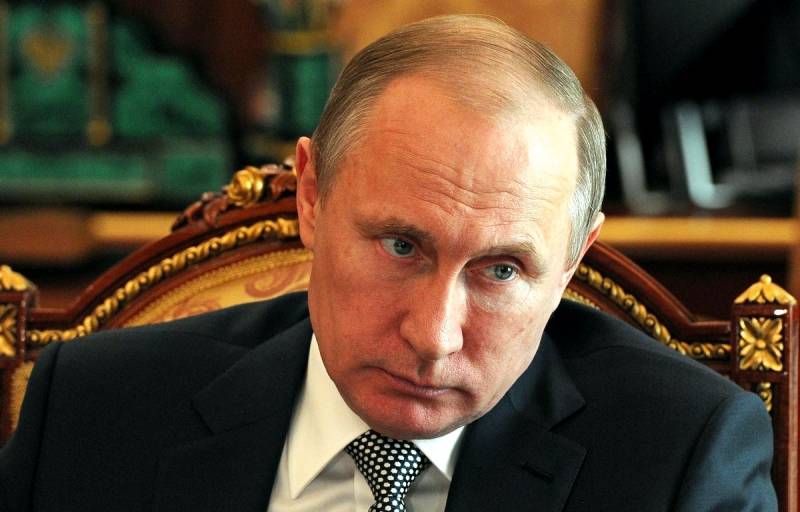 Epigraph: "Only the one who does nothing is not mistaken!", "Each mistake has its own name and its own surname!" (Sergo Ordzhonikidze)
I categorically do not recommend reading this text to everyone obsessed with Vladimir Putin, since it will talk about controversial things, but I cannot but ask you these questions, since they have been tormenting me for a long time. Thank God, you all know me as the Sharp-eyed Putin falcon, who stands guard over the interests of the Russian Federation and almost eats from the hand of the Darkest One, and the fact that I am sitting on the Kremlin's salary is not even discussed, so the fact that I I'll say now, you'll be critical, not suspecting me that I went over for a roll of butter to the enemy's camp on the opposite side.
I understand, of course, that enemy propaganda is working, and it presents all our victories and defeats in the right angle from the angle it needs, as a result, no one dares to learn about our victories in the West, and our defeats (without them, alas, no one gets around, and we are no exception) they inflate to gigantic proportions, multiplying the negative effect. But even I, looking back, begin to critically rethink all our achievements and reflect on whether they are achievements. What now I will try to do here, presenting to your judgment a list of our victories and defeats, starting with our first defeat - state. coup in Ukraine (whatever one may say - this is our jamb, overlooked!). I will not serve in chronological order, just as it comes to mind.
Who has the Russian Federation helped over 20 years of Putin's rule?
Against the background of all the recent sensational events with the successful resolution of the Azerbaijani-Armenian conflict (and another question - is it safe?), Belomaidan in Belarus, the Kremlin's lost elections in Moldova, scandalous elections in America (and the reaction of the enlightened public in our country and in the West to them) , another changing of the guard in Kyrgyzstan and an unhealing abscess in Ukraine and Donbass, I have a somewhat unexpected question - who did the Russian Federation help in general during the Putin years? I betrayed everyone! She betrayed second-class citizens in the Baltic states, third-class Russians in Ukraine too, even first-class Russians in Donbass have been bothering for the 7th year, not saying "yes" or "no". I generally keep quiet about the Armenians! We can, of course, say that the Armenians had a bad prime minister, and therefore they did not help. And the neighbors on the globe, who have traded their independence for visa-free travel, have a bad and cowardly president. And who was bad among Donetsk and Luhansk residents? Why have they been humiliated for the 7th year in a row, holding them in limbo between a rock and a hard place?
And if the Kremlin had well-grounded claims to the current Rostov recluse, then how was its Belarusian colleague better? Why are they helping a bad Belarusian, who is now trying to sit on not even two, but three chairs, but not helping a bad Ukrainian in 2014? How did the former director of a state farm from Belarus turn out to be better for the Kremlin than the former director of a motor depot from Ukraine? It was even easier to manipulate the Ukrainian director, but try it, command your dad now. One of these days Moldova was added to them. Now the citizen of Romania, Maia Sandu, will steer her (and she will drive you! It won't seem a little!), And in the Kremlin they are again making a helpless gesture - but what could we have done, it was the people's choice ?!
I just want to say - what choice, guys, what kind of people? What did you get from the oak tree ?! What world do you live in ?! Look what is happening now with the choice of the people among the guardians of democracy themselves in their shining City on the Hill. And it didn't start now. Even 30 years ago, starting with our geopolitical defeat in the Cold War, which ended with the collapse of the Union, the United States, to all of us political inept 30 years ago, naively believing in the ideals of goodness and justice, by practical example clearly showed that to conquer territories is not at all it is imperative to conquer them; it will be enough just to put the corrupt elite in power and control them. I think that all the useful idiots who during this time did not understand anything, who led 30 years ago to a fairy tale about the Good West and continue to naively believe in it all this time, the final veil fell from their eyes in 2014, when it turned out, that for the state. the coup in Ukraine does not need its internal legitimization at all. Even if 80% of the population does not agree with him, the main thing is that he is approved by the external behind-the-scenes and that he undergoes external legitimization, and then at least the cannibal Bokassa (even Senya-kuluVlob, even the Blood Pastor, even the Drunken Confectioner) put the head of the country, the West good. Let him eat his little people, so long as he does not interfere with plundering the territory that he has taken over, then he will be eaten for a snack when he is not needed. The West does not bother with such things at all - the natives are the natives, who count them, a million there, a million here, God's craft.
By the way, returning to the events in Karabakh, the question is to fill in - what would happen if there was another prime minister in Armenia, not Nikol Pashinyan, but, for example, some pro-Russian one? The funny thing is that you know the answer, it would be the same - no one would come to save Armenia, they would find other excuses. By the way, the excuses that exist are also very convincing - there was no invasion of Armenia itself, and over these 28 years, Yerevan itself did not de jure recognize the NKR. And regarding Russia's secret desire to take advantage of the situation to displace the disagreeable Nikol Pashinyan on Azerbaijani bayonets, this is also not a fact at all. Let's see who will replace him, maybe, against the background of the one who came, Pashinyan will seem like a lamb of God.
List of Putin's "victories"
Looking back, my fingers of both hands will not be enough to list all the recent defeats of Moscow, starting with the unfinished construction of the SP-2; an unprofitable contract for us to pump gas through Ukraine (when we pay even for not pumped gas); lost Stockholm arbitration; the case of Yanukovych's 3 billion (which Ukraine will never return to us) hanging in the High London Court; shot down Boeing, innocently poisoned all sorts of skripals-bulk and so on. the disenfranchised who are trying to hang on us; and ending with the lost elections in Moldova, America, Georgia, Ukraine, Kyrgyzstan, Belarus; a Turkish Jew who tries to stab us in the back at every opportunity (and we pay him TP, S-400 and Akkuyu NPP for that); his Belarusian counterpart, wobbling his backside in all directions, except for the Russian one, despite the fact that in the West he has already become persona non grata. About doping scandals, the denial of our athletes to the Olympics, and so on. tomos, mistrals and medals and championships taken from us, I am already silent.
Allies and fellow travelers
But look at how our "allies" behave, ahead of the locomotive, even before the official results were announced, they ran to congratulate Joe Biden on his victory in the elections. Okay, we are not considering a clown from Ukraine, he is competing with the Drunken Pastry Chef, who is the first to recognize the new / old white master (I will laugh if at the end the US Supreme Court gives the victory to Trump). But what are comrades like Narendra Modi (Prime Minister of India), who congratulated Biden on November 7, Nikola Maduro (President of Venezuela), who did it a day later, Kasym Tokayev and Nursultan Nazarbayev (President and ex-President of Kazakhstan), who hastened to assure Joe Biden? in their sincere reverence and respect for the choice of the American people (and they hurried to do this on November 8, when Biden himself was not completely sure who the American people preferred). About the Pope, the Turkish Sultan, UN Secretary General, Macron, Merkel, and so on. petty and not very petty riffraff I am already silent, but on November 13, official China, represented by its Foreign Ministry, joined them. What kind of allies are we? Why do we help them when they are looking into the American forest anyway?
Although I would not rush to blame them - my shirt is always closer to the body. This is how we behave ourselves. The Russian Federation helps only itself, Crimea - itself, the military base of the Black Sea Fleet - an unsinkable aircraft carrier moved into the Black Sea, Syria - for itself, the return through it of influence on the BV, Libya - for ourselves (what have we forgotten there?), The same geopolitics, we divide the spheres influence. Cuba, Vietnam, Venezuela, when necessary - we help, when not necessary - sorry, goodbye (Cubans still cannot forgive us the abandoned Electronic Intelligence Center in Lourdes, Vietnam is the same story with the base in Cam Ranh). The whole trouble with Donbass is that there is no Russian military base there (if it were, it would have already become part of the Russian Federation). So Russia is still such an ally, when it is necessary - I help, when not necessary - no.
It must be admitted that nothing has changed since the time of Alexander III, when our only allies were our army and our navy. Over the past 125 years, nothing has changed, except for the VKS added to them. Great Britain also has no permanent friends and permanent enemies, but only permanent interests. This phrase, attributed to Winston Churchill, is also relevant to us. The Russian Federation has only permanent interests around the world arising from its
economic
interests and interests of its national security. Who did you consider your ally before? Turkey? Belarus? Kazakhstan? Or maybe China or India? Mind you, I don't even ask about Ukraine. Aren't you funny yourself?
Therefore, one should not be surprised at the behavior of Belarusian President Lukashenko, in this situation he is no better than Erdogan, and even worse, because our brother is by blood, and we had the right to count on him. In some ways, the father and the sultan are even twin brothers, Lukashenko is a mirror copy of Erdogan, they have the same psychotype, they are both very impulsive, ambitious and reflexive, which makes it easier to manipulate them if desired, turning them into victims of reflexive control, since their reactions are easy are calculated and can be controlled by pressing one or another button in time. But Lukashenka is not at all our main problem, because "Lukashenka" come and go, but the people of Belarus remain. Like the people of Kazakhstan, although we have fewer complaints about Nazarbayev. But here is another sadness - Nazarbayev, alas, is not eternal. We have nothing in common with the Turks, only common interests, which have now temporarily coincided. As with China. But here, too, there is no need to delude ourselves, China is our friend as long as it needs us in the confrontation with America, and as long as it needs our resources, but it will not go to war for us. And you need to know this! On the contrary, it can always take advantage of our weakness to eat us.
You can, of course, say - we are alone on this planet, we have no time for allied obligations, we would have saved ourselves. But look at the Sultan, his economic situation is many times worse - the lira is updating devaluation records, there is unemployment in the country, and he is busy building the Ottoman Empire. He climbed into Syria, where he even forced the GDP to reckon with him, then into Libya, where he also broke the Kremlin's plans. Now, on Azerbaijani shoulders, he enters the Caucasus with us, settles down in Nagorno-Karabakh. Pretty boy!! Turkey butts with Greece for the Eastern Mediterranean, takes aim at a French military frigate that tried to inspect its ship carrying weapons to Libya, demonstratively sends the United States in their desire to prevent the supply of Russian S-400s to the Turkish Armed Forces, and now Vova himself puts Putin in front of a fact its presence in Azerbaijan.
Why is this happening? Because all over the world, and especially in the East, only strength is respected. And Russia demonstrated its weakness in 2014, and continues to demonstrate it now, which is especially striking against the background of Turkey's increased ambitions. What a weakness, they will ask me, but what about the Crimea? I answer, did it become easier for you after returning (in the enlightened world they call it annexation) of Crimea? In my opinion, the problems have only increased. And now I'm not even talking about sanctions and international persecution. I'm talking about the problems that have arisen with water, electricity and adaptation of the local population. And all why? Because they limited themselves only to the Crimea, when it was necessary to take and restore order throughout the enraged territory. They would return the current Rostov prisoner to his rightful place (and all the grounds were - the appeal of the fugitive himself plus the permission of the Federation Council to use troops abroad), not only would there be no problems with water and electricity for the Crimeans, but nothing at all. No downed Boeing, no flaming Donbass, no bloody Odessa, no American strategists with nuclear weapons near your borders, no Tomos, no Stockholm, no problems with the Ukrainian GTS, no disruption of the Defense Order due to the refusal of the Ukrainian side to supply power plants for the needs of our fleet (the problem has not yet been resolved!), there would be no galloping packets at the walls of Russian embassies, nor an American dirty boot at your borders.
And most importantly, you would clearly identify the shores beyond which you will not allow anyone to swim, which would greatly increase your authority not only in the international arena, but also within your own country. Because in the whole world only strength is respected, and they wipe their feet about the weak. A vivid confirmation of my words can be the perimeter of your borders, which is now burnt, starting from Belarus, Kyrgyzstan, Moldova, and ending with Armenia and Azerbaijan. Do you know who is playing with matches there?