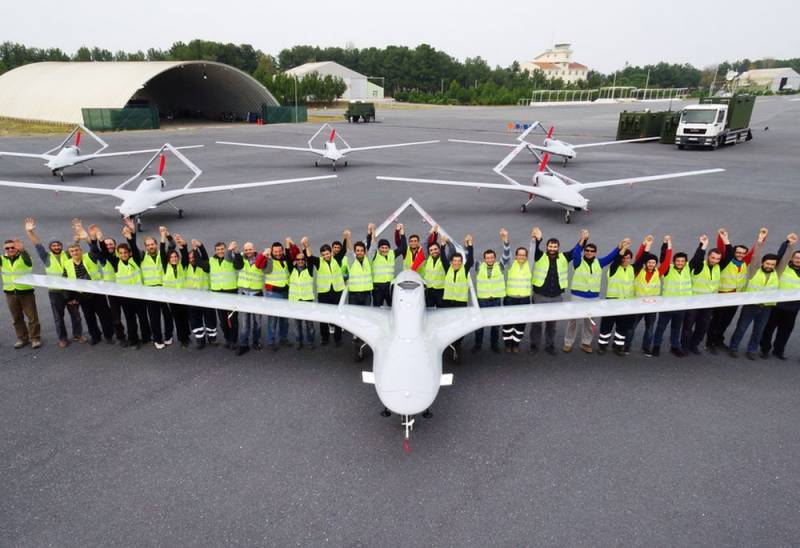 Turkish drones Bayraktar TV2 became famous during the recent conflicts in Libya and Nagorno-Karabakh. They are manufactured by Baykar Makina, whose technical director and co-owner is Selcuk Bayraktar, the son of the company's founder and son-in-law of Turkish President Recep Tayyip Erdogan, writes the American Bloomberg agency.
The use of drones changed the war. Thanks to the footage they filmed, it became possible to understand the often conflicting statements of the parties. Impartial filming is also great for propaganda purposes. In addition, the public of the applying party treats the loss of drones with understanding. They are significantly cheaper than aircraft and there is no risk to the crew.
In 2019, these drones achieved some success in the confrontation with the much-publicized Russian anti-aircraft missile systems "Pantsir". Thanks to them, the government of Faiz al-Saraj was able to defend Tripoli and retain power in the western part of Libya.
In 2020, Bayraktar TV2 performed demonstratively in the Transcaucasus. Azerbaijan has used An-2 aircraft, which were used in unmanned mode to detect air defense of Armenians, as well as Israeli kamikaze UAVs. But that was not enough. Bayraktar TV2 drones have changed the balance of power. Baku won a landslide victory and regained control of most of the territories lost three decades ago.
The development of drones has undermined faith in Russia's deeply echeloned air defense system and the complexes that Moscow exports. The "Pantsir" had problems in Libya, it turned out that the ZRPK had a "blind spot". At the same time, the Armenian air defense system, even if not the most modern, practically ceased to exist. Therefore, Russia may not have an "antidote" to Turkish drones, because even the handicraft drones of jihadists in Syria sometimes pose problems for Russians.
Moscow's propaganda machine is trying to convince everyone that Russia has a reliable means of countering drones. A lot of websites told about the EW / REP complexes "Krasukha-4" and "Pole-21". However, few people know what the real effectiveness of these systems is against the tactics of Turkish drones.
The armies of many countries of the world, especially from among the not very rich, have already turned their attention to drones and wanted to expand their capabilities. They see prospects in their use, because it will be much cheaper to carry out an offensive with their help than before, and not as scary and expensive as it was before.
For example, Ukraine in 2019
bought
Turkey has 6 Bayraktar TV2 drones, control equipment and ammunition for them. In 2021, Ukrainians
will acquire
at least 5 more units of similar products, the publication summed up.