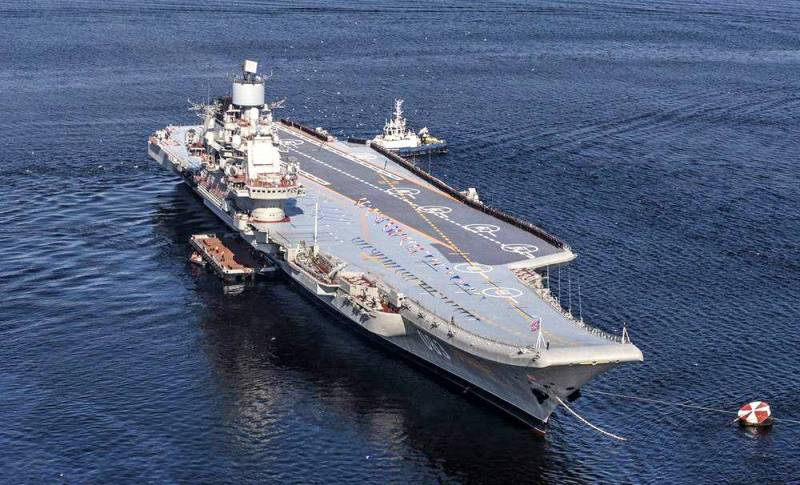 By openly calling Moscow and Beijing its enemies, Washington promotes their rapprochement. Now Russia and China, under the incessant pressure from the United States, are expanding cooperation in many areas. I wonder if they will be able to jointly create a Russian-Chinese nuclear aircraft carrier to wipe the nose of the Americans, who will definitely not like it? This question is being asked by the Indian edition of the EurAsian Times.
At one time, Moscow, "having gotten a hand" on the creation of "aircraft-carrying cruisers", began to build its own nuclear aircraft carrier, but the collapse of the USSR prevented this business. However, Russia has tremendous experience in building large nuclear icebreakers, and recently the Russians have laid down a couple of non-nuclear helicopter carriers. In addition, Moscow has at its disposal the Soviet TAVKR "Admiral Kuznetsov", which is undergoing modernization.
In turn, China has two non-nuclear aircraft carriers. "Liaoning" - an unfinished Soviet, purchased from Ukraine, in 2012 was put into operation and is used as a training ship. Its displacement is 67,5 thousand tons, length 300 m, width 75 m. The air group is up to 24 aircraft. "Shandong" is the first one built by the Chinese independently. It was commissioned in 2019. Its displacement exceeds 50 thousand tons (the exact one is classified). The ship is 315 m long, 75 m wide, and has a speed of 31 knots. Air group up to 36 aircraft. This suggests that Beijing has made some progress in heavy shipbuilding.
In 2018, the Russians invited the China National Nuclear Corporation to participate in a tender to create a nuclear icebreaker. In fact, this is an introduction to
technological
opportunities. The displacement of the vessel should be 30 thousand tons, length 152 m and width 30 m. The PLA has its own nuclear submarines, but the technologies used in them are not suitable for surface ships. Therefore, the Chinese are very interested in the experience and opportunities of the Russians.
Moreover, Russia needs money. Moscow itself could build everything it needs. She has all the necessary technologies and developments, but primitively there is no free funds for implementation. Therefore, money from China can solve many problems.
Experts believe that we have before us an example of the interest of the two countries in cooperation. How deep and all-encompassing the further process will be is another question. But if Moscow and Beijing continue in the same spirit, and Washington does not stop worrying them, then the day may come when the first nuclear-powered Russian-Chinese aircraft carrier will be laid down.
Moreover, China needs such a ship now, and no one except Moscow will help it. It is easier for Russia, a continent country in terms of defense, but given the circumstances, it may even agree to create a full-fledged military-political bloc with China. Such an alliance is able to challenge US dominance on the planet, the newspaper concluded.