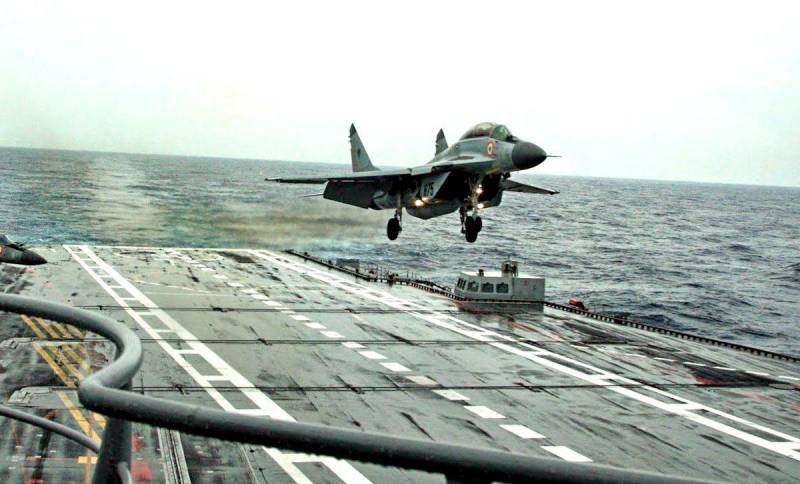 On November 26, 2020, a MiG-29KUB Indian Navy crashed over the Arabian Sea. After that, in New Delhi, the discussion was resumed on replacing Russian aircraft with French Rafale fighter-bombers and American F / A-18E / F Super Hornet, writes the Indian edition of the EurAsian Times.
The plane fell into the water during a training flight from the aircraft carrier Vikramaditya (formerly Admiral Gorshkov). The military department reported that one of the pilots ejected safely and was picked up by the rescue team. A search is underway for the co-pilot and the aircraft itself, and an investigation has begun.
This crash was the third in a year. As a result, questions arose about the serviceability of these aircraft. Experts estimate that only a third of the 45 MiG-29 units remain in service due to operational readiness problems. Therefore, the doors for new aircraft from France and the United States are open, and products from Russia have almost no chance of success in future tenders.
The MiG-29K / KUB were selected to serve on the existing and under construction aircraft carriers of the Indian Navy. But the latest incident pushed the Indian military to master other aircraft, they want to acquire 57 new carrier-based fighters.
Washington and New Delhi recently signed an agreement that allows India to use
technological
opportunities of the USA. After that, the Americans offered their improved F / A-18E / F Super Hornets along with the MQ-9B drones in the SeaGuardian modification, which will be able to solve a wide range of tasks. The F / A-18E / F Super Hornet twin-engine fighter-bombers have better situational awareness and range without air refueling (2000 km) than the MiG-29 (1450 km).
Another alternative for the Indian Navy is the French Rafale, which the Indians are very familiar with. These aircraft can operate from both aircraft carriers and coastal bases, making them strong competitors in the race with the Americans for the Indian contract. Moreover, the French Navy assured their colleagues from India that Rafale would be perfect for them and would be easily integrated into the Indian fleet.