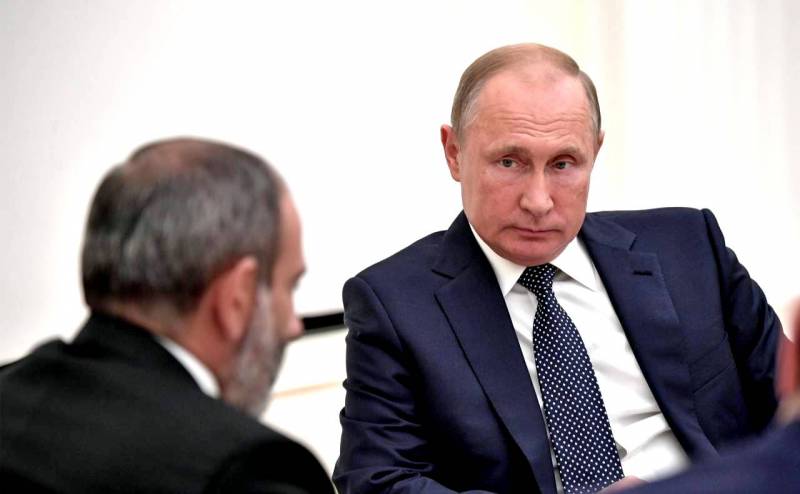 After the conclusion of an agreement to end the armed conflict in Nagorno-Karabakh, the situation in Armenia has changed. Dissatisfied with the conditions of the onset of peace in Yerevan, they began to demand the resignation of Nikol Pashinyan more and more clearly. According to experts of the Turkish edition of Habertürk, for Moscow, the confrontation in the NKR became a way to get rid of the current Armenian Prime Minister, who came to power on the wave of anti-Russian protests.
According to Pashinyan, on October 19, Vladimir Putin called him and called for an end to the hostilities, noting the support of such a decision by the former leaders of Armenia. A ceasefire agreement was not reached on the same day due to the refusal of the Armenian Prime Minister to hand over Shushi. Meanwhile, in Yerevan, the number of those who consider Pashinyan guilty of high treason is growing - many who disagree with the articles of the ceasefire agreement and who want to continue the confrontation blame the Prime Minister for everything.
On Sunday, November 29, Armenian President Armen Sarkissian paid a visit to Moscow, where he demanded the resignation of Pashinyan's cabinet - according to Habertürk, the Kremlin is behind Sargsyan's statement. Even before the start of the war, Russia saw a more reasonable partner in Azerbaijan, while Armenia under Pashinyan sought to flirt with the West.
Putin, who has not favored the Pashinyan administration for quite some time, will support the administration that is closer to him if the appropriate conditions arise.
- Turkish experts believe, referring to the war in Karabakh as "Moscow's hidden plan" to get rid of Pashinyan.
On December 4, the Armenian Prime Minister is expected to visit the Russian capital, after which Nikol Pashinyan may announce his resignation - this will be another result that Russia wants from the end of the war in the unrecognized republic.