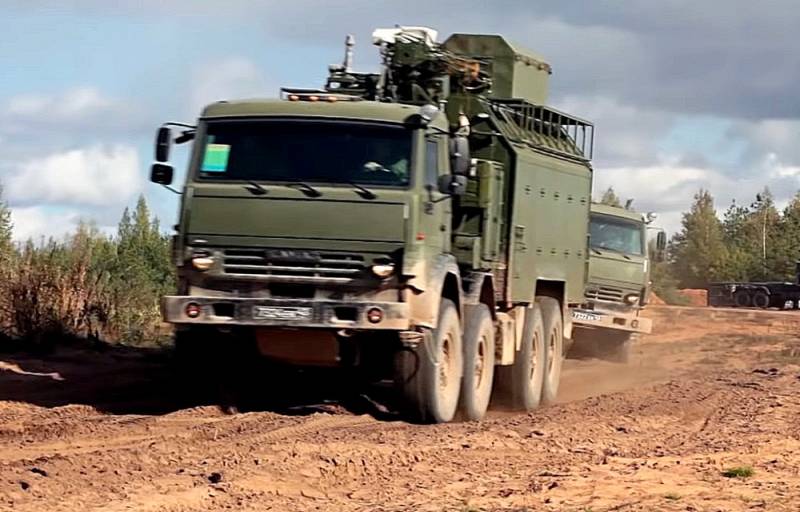 The transfer of Russian Leer-3 electronic warfare systems to Nagorno-Karabakh caused a real resonance in the Azerbaijani and Turkish media. What exactly have our peacekeepers got themselves? Let's figure it out.
In general, domestic EW means have long earned themselves an excellent reputation. Just what is the disabling of the onboard electronics of the American destroyer "Donald Cook" by the "Khibiny" complex and the forced landing of the MQ-5B UAV by the "Avtobaza" complex in 2014. There are events and "fresher". AH-64 Apache attack helicopter was practically "paralyzed" in Syria a couple of months ago. And that's not all.
As for the RB-341V Leer-3, which came to the disposal of the Russian peacekeepers, it is designed to jam and deceive all means operating in the cellular communication range up to 4G, as well as to accurately target artillery on an outgoing signal.
At the same time, the mobile complex based on the three-axle KamAZ is equipped with three lightweight Orlan-10 drones. The latter can operate at a distance of up to 120 km from the command post and suppress communications within a 6 km radius. In addition, the UAV data themselves are capable of "pretending" to be a cell tower to intercept traffic or send false messages.
Despite the fact that Azerbaijani media consider the Russian complex to be a real threat to drones, it is intended for another. First of all, the arrival of RB-341V "Leer-3" will allow our military to effectively control hard-to-reach places on rough terrain in Karabakh.