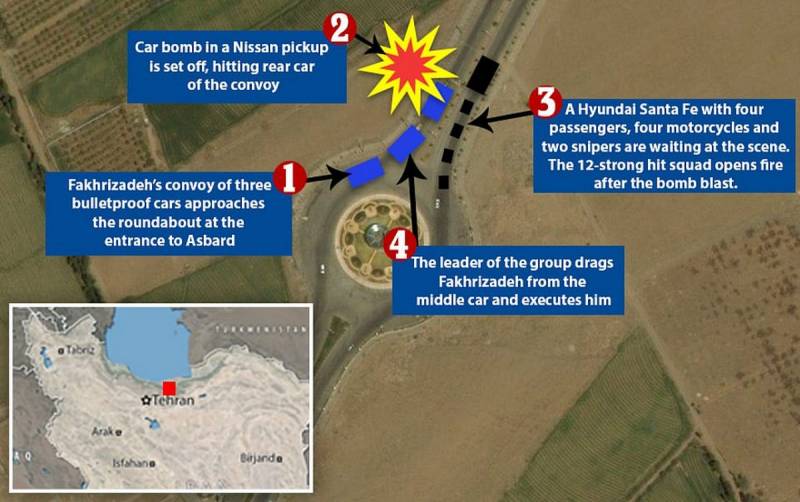 The details of the physical elimination of Iranian physicist Mohsen Fahridzadeh - he headed the research company SPND, engaged in the production of nuclear weapons, became known to the media. The details of the murder of "Iranian Oppenheimer" are reported by the British newspaper Daily Mail, referring to the information of the Iranian journalist Mohammad Ahvaz, who received this information from the Iranian authorities.
An Iranian nuclear physicist was shot dead on Friday 27 November. His murder looked like a real American action movie. The carefully planned assassination involved 12 armed men, including a couple of snipers. In total, the group of conspirators consisted of 62 people. The attack on a motorcade, one of which was Fakhridzadeh, took place near the city of Absard, 80 km from Tehran - the scientist had his own house in this city.
At the scene of the attack, Fakhridzadeh was waiting for a Hyundai Santa Fe with 4 passengers, 4 motorcyclists, and a mined Nissan car. Electricity was cut off at the scene of the incident half an hour before the incident. The physicist's cortege consisted of three armored vehicles - Fakhridzadeh himself sat in the second.
At a certain moment of the movement of cars, a Nissan filled with explosives exploded - the power of the explosion damaged the electric poles standing along the road, the debris of cars passing nearby scattered three hundred meters from the explosion. Immediately, the scientist's car was fired upon by 12 "liquidators".
Mohsen Fakhridzadeh was taken by helicopter to the hospital - according to a number of sources, he died in a medical facility. The New York Times, based on information received from American intelligence, reports on the involvement of the Israeli special services in the attack on the Iranian physicist.