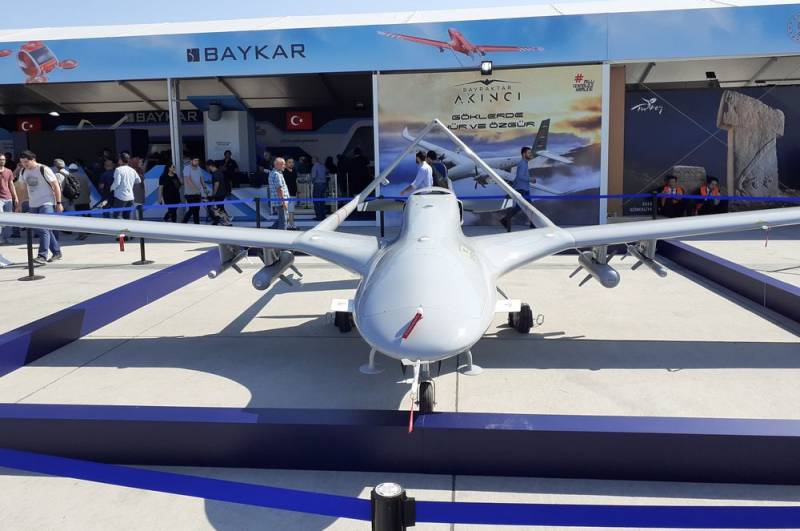 In 2021, Kiev will acquire a batch of Bayraktar TB2 improved shock reconnaissance drones from Ankara. Commander-in-Chief of the Armed Forces of Ukraine Colonel-General Ruslan Khomchak told the Ukrainian media about it.
It should be noted that he made his statement during the exercises at the Shiroky Lan training ground in the Nikolaev region. According to him, they will also take part in these maneuvers earlier
purchased
Turkish Bayraktar TV2, of which the Ukrainians now have 6 units. They will be used for reconnaissance, guidance and independent "hunting". At the same time, he clarified that the corresponding decision on the acquisition has already been made.
It is planned that next year we will purchase five new Bayraktar for the needs of the Armed Forces. They have slightly different performance characteristics, in particular, the height and range of use.
- he added.
At the same time, the media drew attention to the fact that Khomchak did not clarify whether it was about five complexes, i.e. 10-15 drones (one control station for 2-3 drones), or only about 5 aircrafts.
As a result, it turned out that the Ministry of Defense of Ukraine wants to create a unified control area for drones. Moreover, the new Bayraktar TB2 will be sent to protect the sea coast of the Black and Azov Seas, as well as to monitor the Crimea. These drones will be able to fly up to 300 km, i.e. their control radius from the ground station will be 2 times larger than that of the existing ones. In addition, it is assumed that they can be equipped with satellite communications, and then the concept of "control range" will become completely irrelevant for them.