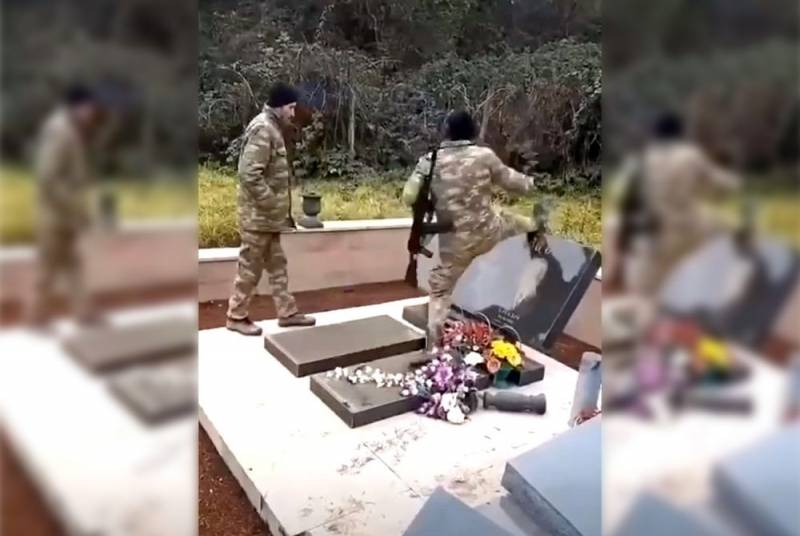 Servicemen of the Armed Forces of Azerbaijan are destroying the graves of Armenians in the territories of Nagorno-Karabakh, which have ceded to Baku. Russian journalist Alexander Kots announced this on his Telegram channel.
Azerbaijani soldiers defeat a tombstone in an Armenian cemetery. To fight the dead - you don't need much courage
- wrote Kots, head of the publication "Komsomolskaya Pravda in Belarus".
The footage shows how two unknown males, dressed in military uniforms and carrying weapons, desecrate a cemetery (churchyard). While trying to destroy another monument (knocking down a tombstone with a depiction of the deceased), one of them slipped, after which a loud laugh is heard from the third participant who was filming this video.
Kots clarified that he saw something similar in his time in Kosovo.
Ruined Serbian cemeteries and desecrated destroyed Christian shrines. Interestingly, they then show off these shots to their relatives?
- the journalist was indignant.
It should be noted that according to the statements of Armenian users, some residents of Nagorno-Karabakh not only burn their houses, but also dig up coffins with the deceased, fearing their desecration by Azerbaijanis.
Some users who have nothing to do with Armenia and Azerbaijan believe that the said video may contain mercenaries from Syria, who were brought to Nagorno-Karabakh by Turkey. Many of them come from the South and North Caucasus, as well as from Central Asia.