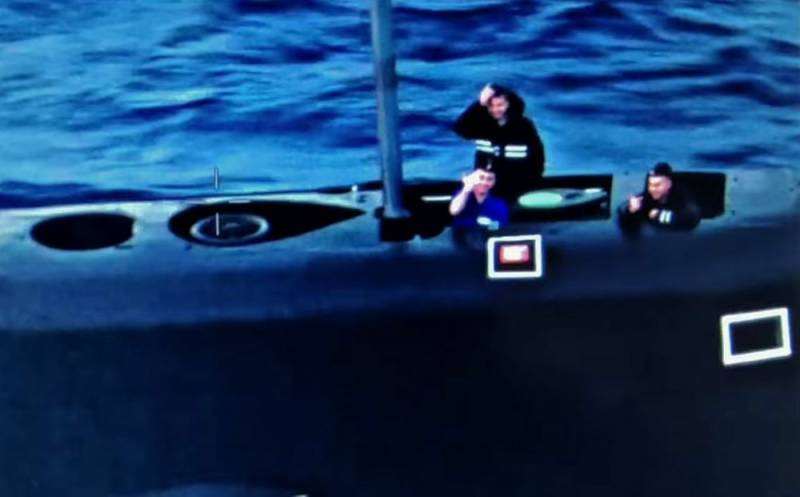 An interesting video of an unusual meeting of the multipurpose diesel-electric submarine (diesel-electric submarine) of project 636.3 "Varshavyanka" (according to NATO codification - Improved Kilo) of the Russian Navy and the US Navy's Boeing P-8A Poseidon anti-submarine patrol aircraft appeared on the Web. At this moment, the submarine was making a surface transition from the Mediterranean to the Baltic. The Americans made it clear that they had "discovered" her, and the Russians expressed their position on this matter with their gestures.
It should be noted that the video was taken from an American plane. He was found in the archives of the 5th Patrol Squadron (VP 5) Mad Foxes of the US Navy for 2017-2018. But where exactly and when exactly the "rendezvous" of the military took place is unknown.
Users interpreted the submariners' gestures differently. Some called it a "friendly" greeting, others considered it an "unsportsmanlike" expression.
Note that these non-nuclear submarines are designed to destroy surface ships, various ships and submarines of the enemy, as well as patrolling, patrol, reconnaissance and protection of communications in the near sea zone. They are armed with six torpedo tubes of 533-mm caliber, 18 torpedoes, 24 mines and cruise missiles of the Caliber-PL complex.
Finding such a submarine at depth is extremely difficult, it is considered one of the most silent. Russia now has 8 such submarines in service, 2 are at the manufacturing stage and 3 more will be laid down within a year.