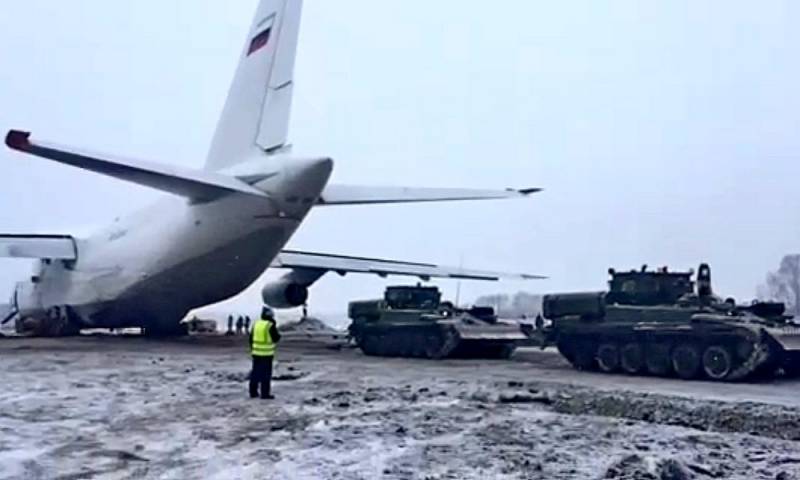 A video appeared on the Web showing the pulling out of the damaged An-124 Ruslan (empty weight, without fuel and cargo, is 178,4 tons), which rolled out of the runway at Tolmachev airport in Novosibirsk. To accomplish the task, the military with two armored recovery vehicles (ARVs) were involved.
The footage shows how armored vehicles are pulling the An-124 back to the runway of the indicated air harbor. Social network users commented on what they saw.
Some wondered why the plane was dragged by "goose bumps" and not with a winch, which, in their opinion, was much more convenient. Others wondered, based on their personal experience, why they did not first put sweatshirts, pea jackets or wrapped them in thick material on the cables. When towing, metal ropes can burst and easily kill or maim a person or damage
machinery
... The dense fabric absorbs kinetic energy and avoids negative consequences.
In addition, users drew attention to the damage to the Ruslan. Some commentators came to the conclusion that it is cheaper for the owner of the aircraft to use it for spare parts, making it a "donor" than to try to "revive". Before that, from Volga-Dnepr
stated
that they "aim to lift" the plane after restoration, but a definite decision has not yet been made.
We remind you that on November 13, 2020, one of the four engines of the An-124, which took off from Novosibirsk, with 84 tons of cargo and 14 crew members on board, was destroyed in flight. Aircraft
committed
emergency landing, people were not injured.