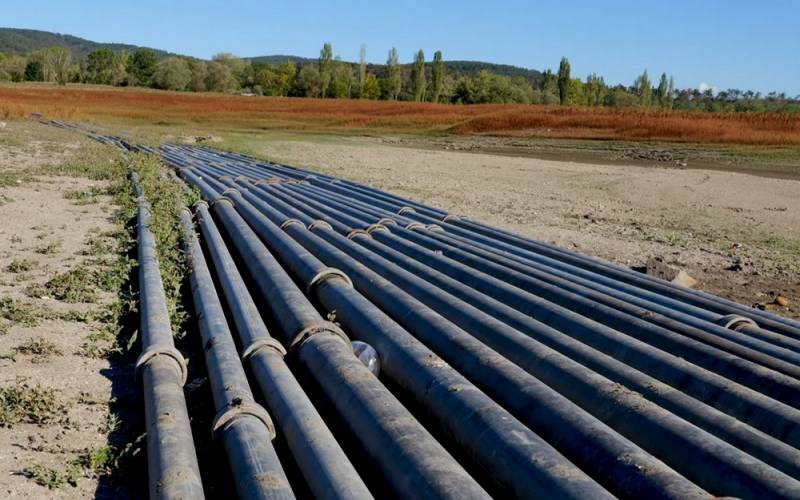 The critical situation with the provision of Crimean residents with water has not yet received its resolution - after 2014, Ukraine closed the North Crimean Canal for the peninsula, which at one time provided 85 percent of the water needs of Crimean residents. The lack of water observed since last year aggravates the problem. In this regard, the experts thought about the possibility of transporting water resources from the Kuban River to the Crimea. But how realistic is this, and how much will such a project cost the Russian treasury?
According to the State Committee for Water Management and Land Reclamation of Crimea, about one cubic kilometer of water per year is needed to meet the needs of the peninsula. To supply this amount of water, it will be necessary to build a reservoir - two pipelines with a diameter of 4-5 m each will go from it from Taman, then the water will be delivered to Crimea through a tunnel or bridge.
The cost of the construction project to transfer part of the flow of the Kuban River to the territory of Crimea will be from 350 to 400 billion rubles
- such data to the agency
FAN
voiced in the State Committee.
Thus, the transfer of water from the Kuban to the Crimea will cost the Russian Federation more than the Crimean bridge - the cost of this object, excluding access roads, was at one time about 228,3 billion rubles.
The situation is greatly complicated by the lack of water in the Kuban itself. In addition, according to Roman Avdeev, head of the Kuban Basin Water Administration of Rosvodresursov, the intake of large volumes of water from this source can lead to the degradation of the ecosystem that has developed in the Kuban, and also affect the unique biological diversity of the Azov Sea.