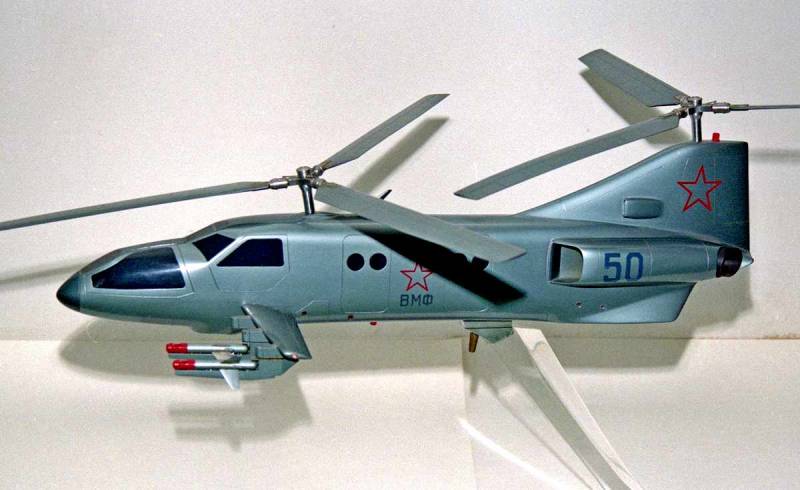 In the 60s of the twentieth century, the Kamov Design Bureau was working on the creation of a futuristic V-50 helicopter, which was supposed to fly at a speed of 400 km / h. It was a radical concept and a very ambitious project that would allow the USSR army and navy to acquire one multi-purpose combat helicopter, writes the American online edition The Drive.
To implement the plan, the designers even deviated from their own tradition of installing coaxial counter-rotating rotors,
Technology
, which was developed by Nikolai Kamov himself.
The B-50 used a pair of tandem rotors (main rotor) positioned like the American CH-47 Chinook. Two turboshaft engines TVZ-117 with a capacity of 1900 hp were chosen as power units. each. In addition, the B-50 had a battleship-style cockpit with a staggered pilot seat, a narrow fuselage, and a modular arrangement of weapons and equipment, and was capable of carrying troops. Far-sighted designers, thinking ahead of their time, decided to put modules on the rotorcraft, for each specific mission. Guns and missiles could be changed to radar and various equipment.
It should be noted that the development of helicopters was then approached very conservatively throughout the world. In the USSR, this was expressed in a long line of rather conventional, although large, powerful and reliable Mil KB helicopters. They flew at a speed of about 250 km / h, and modern designs - 320 km / h. In turn, KB Kamov tried to get away from conservatism and proposed an innovative version of the "universal helicopter" that could be used to perform a wider range of tasks.
The B-50 project reached an advanced stage, including wind tunnel testing, but the Soviet Army decided not to order it as it believed the Mi-24 would meet their requirements for a transport and assault helicopter. The B-50 could have become a rival to the Mi-24, but did not. The Soviet Navy also took a conservative path, although it chose the products of the Kamov Design Bureau, the Ka-25 helicopter, for its needs. Later, the Ka-27 and Ka-29 appeared.
Success was supposed to come to the Kamov Design Bureau along with the promising development of the Ka-52 helicopter, but the program was interrupted due to the collapse of the USSR. This helicopter appeared in service with Russia only in 2011. The Ka-52 could become a suitable receiver for the B-50, if the program were resumed on its basis, because many highly developed countries are engaged in the development of high-speed rotary-wing machines.