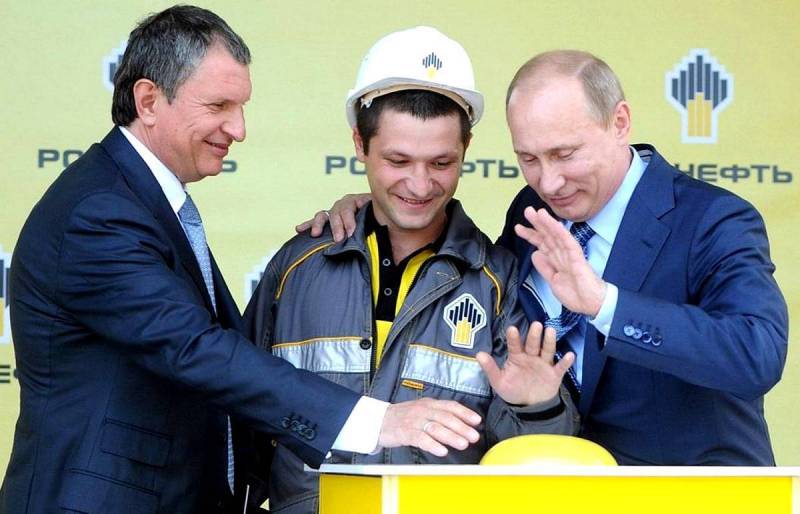 Russian
economy
today it is not in the best condition and needs powerful incentives for development. Its real locomotive can be the Vostok Oil megaproject, which will solve a whole range of tasks: expand the country's resource base, give new orders to domestic industry and allow Russia to gain a foothold in the Arctic.
The initiator of the megaproject is Rosneft, whose head the day before presented a report on its implementation to the head of state. It is difficult to overestimate the importance of Vostok Oil for Russia.
At first
, a giant oil-producing cluster will be created on the Taimyr Peninsula, whose total resource base is estimated at 6 billion tons of raw materials. A trunk pipeline 770 kilometers long will be built to the port of North, where shipment to ice-class tankers, as well as energy infrastructure with a total capacity of 2,5 GW and 3,5 thousand kilometers of power grids will take place. An additional 15 fishing villages will appear in the Far North itself, and tens of thousands of new jobs will be created. In total, 400 thousand people are involved in the megaproject. Thus, in the Arctic, which all neighbors are greedily eyeing, Russia will create a virtually new oil and gas province.
Secondly
, the Northern Sea Route will be maximally loaded. Nowadays, many countries dream of gaining access to this promising waterway leading from Europe to Asia. Moscow cannot outright prohibit them from using the NSR, but it can actually establish its own rules on it. Russia has the longest coastline in the Arctic Ocean, has the world's largest icebreaker fleet, including several combat icebreakers. The development of port infrastructure in the Arctic will consolidate the dominant position of our country in a strategically important region, and an increase in cargo traffic through the NSR will only contribute to this.
As part of the Vostok Oil implementation, by 2024 Rosneft has undertaken to export 30 million tons of hydrocarbons. The volumes in the future should grow to 50 million tons per year, and then - up to 100 million tons. The main difference between this project and Gazprom's initiatives is that the entire production and export infrastructure is located on Russian territory, which minimizes the geopolitical risks that have already appeared in all their glory at Nord Stream 2 and Turkish Stream.
Thirdly
More importantly, Vostok Oil does not focus only on the extraction and sale of resources abroad. The newest Zvezda superyard, which has been opened in Primorye, is closely related to the development of the Arctic. It will build ice-class vessels, tankers, gas carriers, supply vessels for the needs of Rosneft. An order for 50 units has already been formed, and all of them will be created in our country. Also, a lead super-icebreaker of the Leader class has already been laid at Zvezda, which will have no analogues in the world in terms of power. It will give Russia the opportunity to conduct convoys along the Northern Sea Route even in winter, which will become a colossal competitive advantage.
In addition to Zvezda, a modern metallurgical plant will be built in Primorye, which will provide additional jobs, making the Far East a much less depressed region than it is now. We will have to build new roads, schools, hospitals and kindergartens. But this is far from the entire synergistic effect. It is estimated that all domestic metallurgy will receive a 20% increase due to orders for pipes of various diameters and the needs of shipbuilders. Rosneft expects to purchase from KAMAZ from 2500 to 6000 units of specialized
equipment
, as well as 50 helicopters from Russian manufacturers.
In general, despite the obvious high cost, such a large-scale project can bring our country a cumulative benefit incomparably greater than the numerous export gas pipelines of another state corporation.