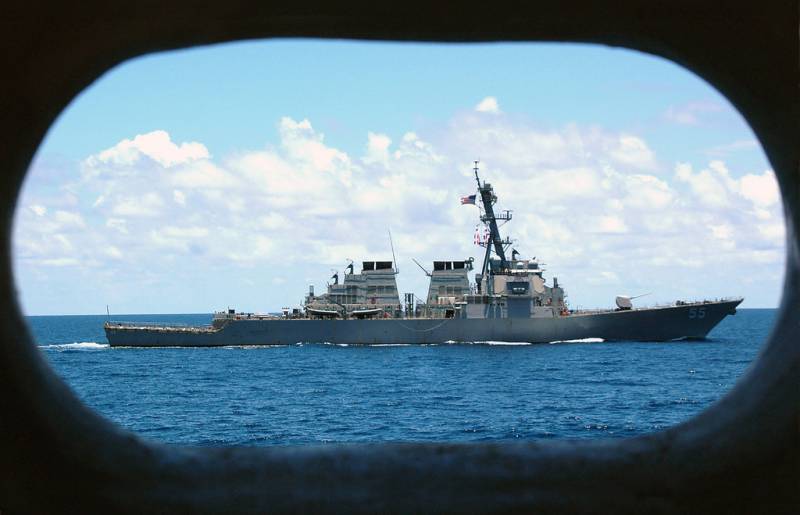 Fox News website visitors heatedly discussed
news
about the Russian-American maritime incident that happened the day before off the coast of Primorsky Territory, when the large anti-submarine ship Admiral Vinogradov prevented the American destroyer John McCain from violating the Russian state border.
A statement by the US 7th Fleet earlier said that the US destroyer URO "defended the rights and freedoms of navigation" near Peter the Great Bay in the Sea of ​​Japan.
Some of the nearly XNUMX comments posted by visitors to Fox News are featured below.
Trust us, we are still the leader. They still can't match our military. From time to time, they are still able to flaunt their beautiful ships, but when it comes to playing, all their design flaws and lack of funding will become apparent.

- argues wertyuhgt.
As I understand it, you just need to ram the Russian ships ... just a little bit, and they will sink

- expressed the opinion of easlyeasy1.
Don't worry people, there will be no war; Biden will sell us to Russia for a cheap price!

- suggests JakeDandy42.
If it came to a fight, the US Navy would have destroyed the Russian fleet in minutes

- the user phil1961 is sure.
For Russia, the issue is not about technology. It's a numbers game. A much larger number of low-quality products can surpass the more technological, but less numerous. This is why, for example, the Soviet T-34 tank and the American M4 Sherman were so successful. There were tens of thousands of them: 50 "Shermans" and 000 T-84s against 000 "Tigers"

- commented the user Exscotticus.
This is just the beginning. Now that Biden is in power, there will be many more problems. We will lose. Just as Russia invaded Crimea and took over under Obama and Biden. China and other countries will now exercise their influence over the United States

- paralegal37 panics.
Peace is established through force. If Russia and China feel a weakness in our leadership, they will provoke us. I am very concerned about the new president. He looks more like an EU leader than a US president

- aamerican77.
Just sink this Russian ship ... They don't have much left afloat for us to worry about. Their air force planes continue to fall, and their tanks are also in a dire state of disrepair [...]. Their authorities love harsh rhetoric, but there is nothing to back it up if necessary.

- noticed JRod761.
Under Biden, the Russian navy would have captured US soldiers and brought them to their knees, as they did under Obama. There was a reason why there were no such incidents under Trump, and every country knew to back down [to America]

- the BORTSimpson reader believes.
Putin does not need to worry, on January 21, 2021, Biden will give him this bay!

- exclaims GooseL.
Russia has the same GDP as the state of Texas or Italy. The real enemy is China

- reminded the user noobamanism.