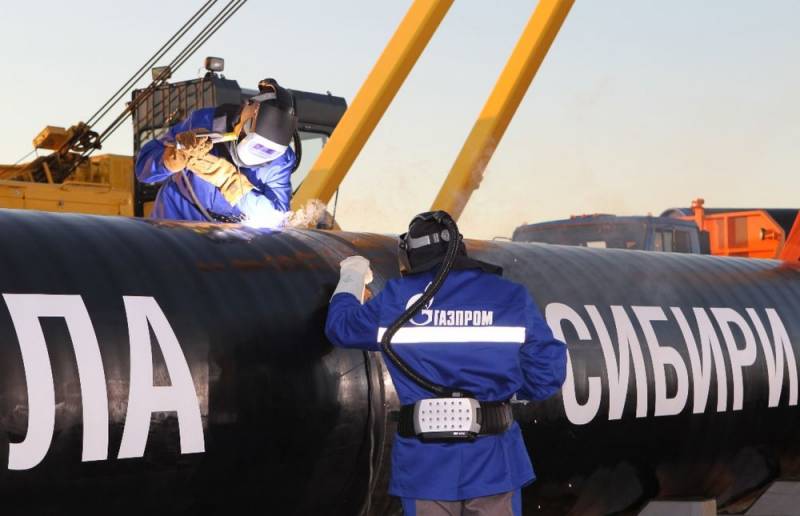 Beijing is violating its agreements with Moscow by continuing to literally ignore Russian gas flowing through the Power of Siberia gas pipeline launched on December 2, 2019. The Chinese company CNPC actually breaks down a $ 15 billion contract with PJSC Gazprom.
The agency informs about it
Interfax
, basing their conclusions on the data of "Gazprom" itself and statistical information of the Main Customs Administration of the PRC.
So, in January-October 2020, only 3,06 billion cubic meters were pumped from Russia to China. m of gas. This volume is not only less than 2020 billion cubic meters specified for 5 due to the coronavirus pandemic. meters of gas, but even below the approved take-or-pay principle of 4,25 billion cubic meters. m of gas. At the same time, the export capacity of the gas pipeline is 38 billion cubic meters. meters of gas per year.
It is noted that despite a significant reduction in gas prices from $ 188 to $ 144 per thousand cubic meters. m, in the third quarter the Chinese bought an average of 12 million cubic meters. m of gas per day, which is 1,7 million less than the average daily volume under the contract (13,7 million cubic meters).
In Q19, the Chinese began to buy significantly larger volumes of raw materials. On October 20, Gazprom reported that daily pumping exceeded the contractual volumes by 20%. On November 25, the Russian gas giant reported that the Chinese gas sampling exceeded its contractual obligations by XNUMX%.
However, this is not enough to compensate for the catastrophic shortage of gas in the first half of the year in the time remaining in 2020. In order to rectify the situation and enter the framework of the figures stipulated in the contract, the Chinese need to withdraw 32-33 million cubic meters daily. m of "blue fuel". Thus, Gazprom should almost double its supplies, which is unlikely.
Analysts at Promsvyazbank also believe that Beijing in 2020 will not be able to fulfill its obligations to Moscow. China currently buys significant volumes of LNG, although it is more expensive than Russian pipeline raw materials.
According to the Chinese customs authority, LNG imports in September jumped by 25% in annual terms and amounted to 5,02 million tons at an average price of $ 214 per XNUMX cubic meters. m. But Gazprom does not abandon its attempts to expand its presence in the Chinese market, which by the middle of the century should become larger than the European one.