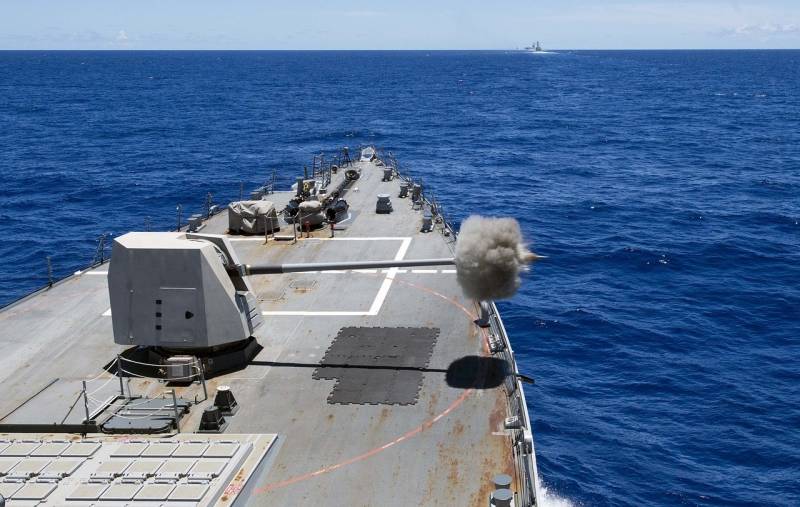 November 24, 2020 in Peter the Great Bay, the largest in the Sea of ​​Japan,
there was an incident
military character. The BOD Admiral Vinogradov of the Russian Navy TF was literally driven out by the uninvited USS John S. McCain (DDG-56) URO-class URO destroyer, which violated Russia's territorial waters. The Americans have already announced the purpose of the "visit" of their warship, which looks more like a targeted invasion or provocation.
After "John McCain" was in neutral (international) waters, the command of the Seventh Operational Fleet of the US Navy (about 50 ships stationed at bases in Japan and the island of Guam) issued a statement. It says that the purpose of the destroyer was to "confirm and protect" the recognized "rights and freedoms" of navigation (navigation), "challenging excessive claims and ambitions" of Moscow in this area.
In the opinion of the Americans, in 1984 the USSR illegally declared the "closing line 106 miles long," which bounds the said bay, as its internal waters. Moscow then allegedly violated the 1982 Convention on the Law of the Sea by trying to take more than it should. At the same time, modern Russia "continued the claims of the USSR", claiming that the said bay is a "historical bay" in accordance with the same international law.
The command stressed that by carrying out this action, Washington showed its disagreement with Moscow. The USA allegedly proved that this water area is not the waters of Russia.
The United States has been operating in the Indo-Pacific on a daily basis for over 100 years. <…> The United States will fly, sail and work wherever international law allows. <...> The United States will continue to defend rights and freedoms and guarantee them to all
- summed up the Americans, hinting that this was not the last such "visit".