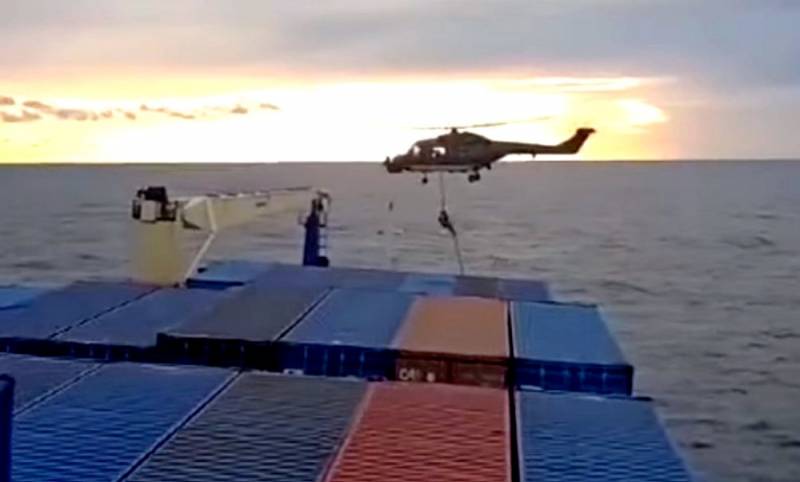 A video of the landing of special forces from the German Navy frigate Hamburg (F220, Sachsen class) on the M / V Roseline A container ship under the Turkish flag in the Mediterranean Sea appeared on the Web. The footage clearly shows that the crew of a merchant ship welcomes the "guests" without enthusiasm and only due to the numerical superiority of the military and the presence of weapons in them, the Turks obey the Germans, allowing them to take control of the ship and inspect the cargo.
It should be noted that boarding a Turkish ship
happened
November 23, 2020 southwest of the Peloponnese. On the same day, the Turkish Foreign Ministry protested to the European Union and Germany over the hijacking of the ship. Ankara clarified that the merchant ship transported paints and varnishes and humanitarian aid from the port of Ambarli (Turkey) to Misrata (Libya) without violating the embargo.
We protest against this unauthorized and violent act
- added to the Turkish Foreign Ministry.
It should be noted that the European Union is conducting an IRINI mission off the coast of Libya to ensure compliance with the UN embargo on arms supplies to this North African country. At the same time, Berlin reported that the crew of the Turkish vessel interfered with a full-fledged search.
However, the published footage shows that as a result, the container ship's crew ends up with their hands behind their heads. In turn, the German Ministry of Defense confirmed that by the time they received the order to leave the ship, the military did not find anything suspicious on it.
We remind you that this June in the Mediterranean
happened
the incident between the warships of the French and Turkish navies. Then the Turks aimed their guns and strike systems at the French frigate URO Courbet ("Courbet" - type "Lafayette").