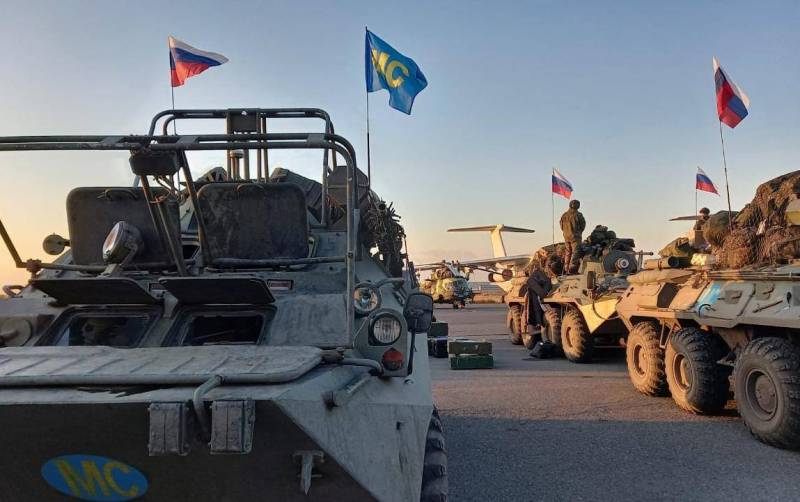 While Armenia and Azerbaijan were sorting out relations in Nagorno-Karabakh, the "Great Game" was hiding somewhere nearby. As soon as the conflict reached its peak - the capture of the city of Shushi by the Azerbaijanis, the Russians intervened in the situation and achieved a ceasefire, former Indian diplomat, columnist M.K.Bhadrakumar writes in his personal blog Indian Punchline.
The lightning-fast actions of Russian leader Vladimir Putin caught Baku, Yerevan and the West by surprise. By the time the world learned about the trilateral agreement, on November 10, 2020, Russian peacekeepers were already on their way to Nagorno-Karabakh.
French President Emmanuel Macron found himself in a very stupid position. Thanks to the large Armenian diaspora, he imagined himself to be one of the key figures in the Caucasus. On November 7, Macron called Putin, discussed the situation in the region with him and reached "a reaffirmation of mutual commitment to the continuation of coordinated mediation efforts by Russia and France, including within the framework of the OSCE Minsk Group." Three days later, waking up in the Elysee Palace, he learned that the Russians were already in Nagorno-Karabakh. Only six days later, Putin called Macron to bring him up to date.
The result is a very funny picture. Rushing to the Caucasus with a "high-octane" mediation initiative, Macron learned that the war was already over and he had to deal with "little appetizing auxiliary issues" in the form of humanitarian problems of people, restoration of infrastructure, preservation of churches and monasteries. The French president could not come to terms with such humiliation.
Paris demanded that Moscow clarify the role of Ankara and foreign mercenaries, as well as clarify the status of the disputed region. There is no doubt that this was coordinated with Washington, also co-chairing the Minsk Group. Within hours, the US State Department erupted in a statement ignoring Moscow's peacekeeping efforts. To put it simply, France and the United States rebuked the Kremlin and made it clear that Russia cannot act unilaterally. Paris and Washington fear the emergence of another process uncontrolled by them, such as the Astana one on Syria, when Russia and Turkey were able to reach an agreement.
Therefore, France, given that the US is now occupied with internal confusion, challenged the Russian peacekeeping mission in Nagorno-Karabakh on behalf of the Western world. The West hoped that Turkey and Russia would fall out, but this did not happen. Moreover, Moscow and Ankara have blocked the possibility of intervention in this problem by other countries. This indicates a serious rift in the NATO system, as Turkey has joined forces with the deadly enemy of the Alliance - Russia, isolating the two main partners in the bloc.