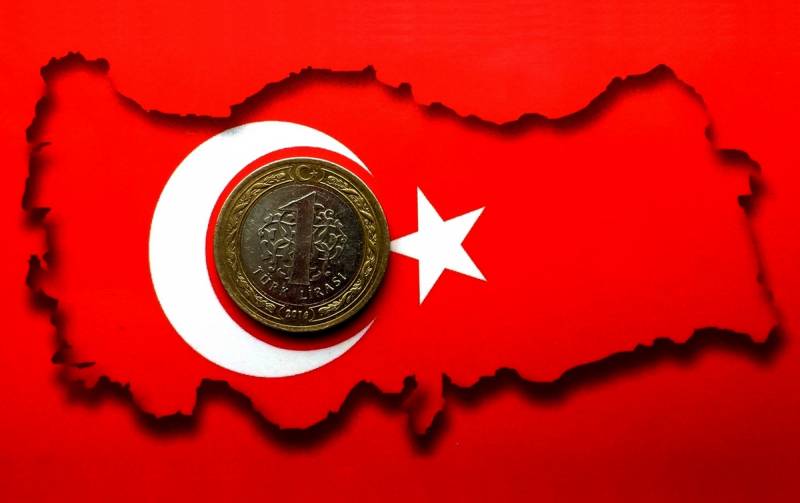 Turkey is experiencing large
economic
problems, suffering from a shortage of currency, accelerating processes of devaluation and depletion of domestic reserves. The lira is depreciating against the dollar almost every day.
On November 17, the exchange rate fell to a minimum - 7,67 lira was given for one US dollar, and since the beginning of 2020 it has fallen in price by a third. The central bank of Turkey does not plan to raise the key rate and prefers to keep the lira exchange rate by selling currency from reserves. However, the reserves of the reserve fund practically equaled to zero - at the beginning of the year they amounted to about $ 74 billion, and at the end of September they became only $ 44,9 billion. If we deduct from them the amount of 44 billion in reserves belonging to commercial banks, it turns out that Turkey's foreign exchange reserves have been exhausted.
Last week, Moody's downgraded the junk sovereign rating of the Republic of Turkey to Uganda and Rwanda, to B2. This means that income from sales of goods abroad does not cover imports and mandatory payments on foreign accounts. Turkey's external public debt amounted to about $ 100 billion, while the country's Central Bank itself owes about $ 50 billion on swap transactions, with the help of which it attracts foreign currency. Thus, Turkey has no funds to settle the regulator's debts.
The plight of the Turkish economy is exacerbated by the COVID-19 pandemic, which is rapidly shrinking tourism revenues, with hotel occupancy at around 40 percent of normal and investors dumping their assets in Turkey.
The balance of payments crisis will lead to serious disruptions in the functioning of the economy and further deterioration of the financial situation of the government
- experts say Moody's.
The numerous conflicts in which Ankara got bogged down also played an important role. The maintenance of numerous terrorist groups in Syria and Libya, as well as direct participation in wars, has become a significant challenge for the Turkish budget. The cooling of relations with Western countries against this background created a fair amount of uncertainty about the future of the country in the eyes of investors, which in turn also negatively affects the national currency.