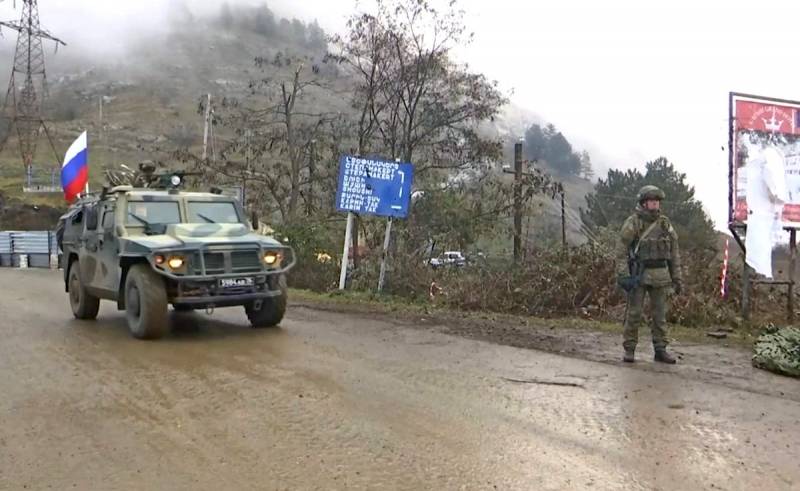 Judging by some signs, the brilliant diplomatic victory won by Moscow in the course of the settlement of the armed conflict in the Caucasus, which, reluctantly, even Western experts and media authors who were far from friendly to our country were forced to admit, may well end up not even nullifying it. but the hardest failure.
A fiasco in one of the historically most important geostrategic areas will cost Russia very dearly and will inevitably "backfire" with problems far beyond the borders of one specific region. Let us briefly consider what events can lead to such a sad outcome.
"War" around peacekeepers
Today, the situation with the deployment of a peacekeeping contingent on the territory of Nagorno-Karabakh is beginning to look more and more uncertain. The original version of the agreement, voiced by our president and signed by the heads of both Armenia and Azerbaijan, dealt exclusively with the Russian military, who will have to ensure peace in this explosive region for five years. Nevertheless, almost immediately after the conclusion of these agreements, Ilham Aliyev began to talk about the "peacekeepers" from Ankara. At first, the Kremlin reacted quite sharply and absolutely unequivocally to such inclinations: "What kind of Turks? What does the Turks have to do with it ?! In this scenario, as the saying goes, "they weren't even close"! Nevertheless, little by little, the topic of the participation of the Turkish military in ensuring peace in the Caucasus began to acquire more and more clear and concrete outlines. First, a kind of "joint Russian-Turkish center for monitoring the observance of the ceasefire" emerged. No, it, of course, can be located exclusively in Azerbaijan ...
Just do not forget that just a few days ago, Vladimir Putin publicly, on the air of the Russia-1 TV channel, once again voiced the thesis: "Nagorno-Karabakh is an integral Azerbaijani territory ..." In accordance with the "norms of international law ", Naturally. It should be noted that throughout the conflict, Moscow has repeatedly stressed its own full adherence to the previously reached agreements on the settlement of the long-standing territorial dispute, and the corresponding UN resolution. Therefore, she confirmed: Karabakh belongs to Baku. So, de jure, Turkish warriors may well end up on its territory. The further, the more likely that this is where they will end up.
At some stage, the tension that had begun to emerge was somewhat defused by the Azerbaijani ambassador to Russia, Polad Bulbul-oglu, who said that there would be no Turkish military presence in Nagorno-Karabakh comparable in volume to the Russian one. Ankara, they say, intends to limit itself to "purely technical control" of the implementation of the agreement. Dmitry Peskov also hurried to confirm these words, once again clarifying that there is "no need" for the presence of Turkish soldiers on the contact line, moreover, there are no grounds for him. However, the leader of our country once again spoke on the same occasion, this time as concretely as possible. Vladimir Putin clearly pointed out that, given the well-defined historical events (the Armenian massacre, which is considered genocide by the Turks in Yerevan), the appearance of this army's servicemen in the immediate vicinity of the territory of Armenia will be unambiguously "provocative". The President also expressed the hope that his colleague Recep Erdogan "understands and understood all this." As it turned out, in vain ...
According to information from reliable sources, the Turkish leader, after the signing in Moscow of the agreements on Karabakh, which was realized not only without his personal participation, but even without direct coordination of the provisions of such with him, on the part of, at least, Ilham Aliyev was in an extreme degree of displeasure ... Well, this is the mildest option ... The absence of Erdogan's troops on the demarcation line does not suit in any case, and he firmly intends to correct this "misunderstanding", and he absolutely does not take into account the opinion of Moscow.
How many Erdogan do not feed ...
An appropriate presidential decree on sending a military contingent to Azerbaijan was sent to the Turkish parliament. As far as we know, local parliamentarians supported this document with great enthusiasm (but they would have tried not to support it ...), after which Ankara at an accelerated pace began to transfer its own units to the Caucasus. As far as we know, the first of them have already arrived at their new location. In this case, we are talking about the stay of the Turkish "peacekeepers" in the "brotherly country" for one year. Let me remind you that our contingent will have to "cover" Nagorno-Karabakh for five years. It seems to be a win, but not everything is so simple. On November 11, the Ministers of Defense of Russia and Turkey, Sergei Shoigu and Hulusi Akar, nevertheless signed a memorandum on the creation of a jointly "monitoring center for overseeing the end of the conflict." Thus, the military presence of Ankara is recognized by Moscow, fully and fully legitimized - despite all the statements made earlier. Where this very center will be located is also not clear yet: "on the territory of Azerbaijan". Well, about this, see above.
Generally speaking, our defense department did not disclose any details on this structure, and this in itself suggests that they are not very advantageous for the Russian side. What the "joint peacekeeping activity" with the Turks can most likely result in, is perfectly illustrated by the sad example of Idlib, where it almost came to a direct armed confrontation between the "allies". So, at least there was no Armenian factor in Syria ... One can only really hope that the Turkish leader and his generals will be smart enough not to stick a torch into a powder keg. Although ... What if this is their ultimate goal?
It must be admitted that if Ankara decides to try to "finally show Moscow its place", then it is difficult to imagine a better location than Nagorno-Karabakh. Our troops will have to conduct hostilities in this theater in extremely unfavorable conditions. The plane carrying the heads of the domestic military and diplomatic departments, who recently made visits to Yerevan and Baku, had to go there through the airspace of Turkey. The Georgian side, quite expectedly, refused to let him through. Under war conditions, this can lead to the most unpleasant consequences, up to catastrophic ones. It seems to be closer than Syria or Libya, but, as they say, there are nuances here, and quite negative ones. Can Erdogan agree to such an aggravation? Judge for yourself. Not so long ago, this newly-minted sultan (or who does he consider himself to be by the standards of the Ottoman port he is reviving?), Without blushing, proclaimed that, it turns out, peace in Nagorno-Karabakh was established "by the joint efforts of Turkey and Russia." Only this way and nothing else!
Moreover - literally the day before, Erdogan said that the country he leads "has every opportunity to significantly expand and strengthen its influence" in the conditions, as he deigned to say, "a new world order" - both economic and political. If you believe the reports of the same Turkish Anadolu (why not believe them?), Then everything was according to the classics: "Recep suffered." He said that Turkey "has repeatedly proved its superiority to everyone" (I wonder - over whom exactly?), Recently "has made great strides in solving its geopolitical interests" (a stone in our garden?), And in addition "is fighting with coronavirus more successful than many developed countries. " Well, and, accordingly, "firmly intends to expand its influence in the world." If I were our leaders, I would not turn my back on this figure ... After all that has been said, even more so.
One should also not forget about the considerable number of pro-Turkish militants still, most likely, on the territory of Azerbaijan, drawn there by Ankara to participate in hostilities on the side of Baku from almost all over the world. Aliyev, as far as is known, promised to expel them from the country as soon as possible, but the question is whether he will be allowed to do this. The way and when our helicopter was shot down in Nagorno-Karabakh raises suspicions about the possibility of even larger and more daring provocations from the same customer in the future. If it comes to a direct armed clash, in which our peacekeepers find themselves in the forefront, the matter, I repeat, will most likely end badly. There will be no Georgian option due to purely geographical reasons. In the best case, they can be evacuated with minimal losses. And this will already be an unambiguous defeat, and not Artsakh or Armenia, but Russia.
However, in this context, even Erdogan himself is not as terrible as his potential allies. Everyone understands that Moscow's diplomatic success in resolving the crisis in the Caucasus is not least due to the fact that the main "world gendarme", the United States, at that moment was immersed in its own internal problems. However, the electoral epic there, apparently, is nearing its end, and clearly not in favor of the current president, desperately clinging to his own chair in the Oval Office. Erdogan's relationship with Donald Trump went wrong. And what about Biden? Most likely, the Turkish leader will have to deal with him. In all respects, Ankara in its current state can represent an ideal instrument for the United States both to destabilize the entire Caucasian region and to create the maximum set of problems for Russia. What if she was given both the F-35 and the Patriot, and something else to boot? And at the same time throw some money, which the Turks now desperately need? With American support behind him, Erdogan will become an adversary a hundred times more dangerous. More arrogant and impudent - this is definitely.
We should not forget about Europe, which is now desperately trying to "squeeze" itself into the issue of settling the conflict in Nagorno-Karabakh, and, most importantly, resolving its future fate. Emmanuel Macron, not a friend of our country, has already stated his desire to "include the Moscow agreements" in some "framework of international control." What exactly we are talking about is not yet entirely clear, but NATO military forces can also be expected to gain a foothold in the Caucasus. Pure control ...
Having acted as a force that quickly and uncompromisingly stopped the bloodshed in Nagorno-Karabakh, Russia has indeed achieved great success. But this victory must now be retained and no one should be allowed to turn it against our country. Believe me, there will be those willing. Yes, in fact, there are already more than enough of them ...