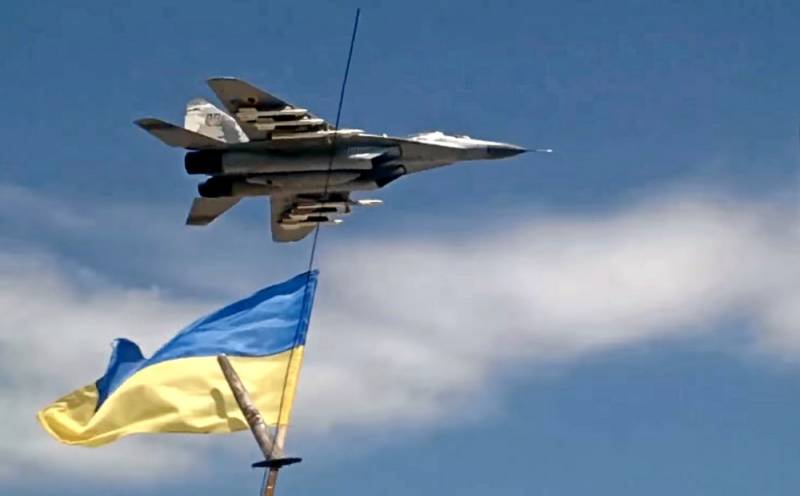 The events in Karabakh and the method of solving old problems demonstrated there have led to a revival of such conversations in the territory surrounded by a zhovto-blakit fence, in a country where psychos took power in 2014 and are now dictating a course of treatment to the head physician. The head physician has already been changed, but the situation is not changing for the better, on the contrary, the madhouse has already been surrounded with barbed wire and they only decide at whose expense the voltage will be supplied. So far, no one wants to pay. But there were hopes that with the arrival of a new trustee of such institutions from overseas, the financing situation will improve, and even then they, with God's help, will still solve all their territorial problems with both Crimea and Donbass.
The fact that this is a clinic in an explicit form is understood only by the healthy inhabitants of this hospital, who, by the will of fate, found themselves locked in this madhouse and could not influence their fate in any way. The psychos, on the other hand, have all the signs of an autumn exacerbation, and they already in all seriousness see themselves at the head of armored groups, with an iron fist supported by an armada of Turkish drones breaking through the defense of Donbass and with a rapid rush of exciting both Donetsk and Lugansk. Particularly impressionable comrades, sitting on heavy tranquilizers, propose not to stop at this, but insist on continuing the offensive, up to the Urals, with an exit to the Japanese-Ukrainian border by the end of the third day. After that, the Crimea, which was at the same time in the deep rear, itself will raise a white flag and ask back to Ukraine, and they will still think whether to take it back or not, and shoot every second or third there. In Donbas, of course, everyone will be shot. It was ordered not to take anyone prisoner.
At the same time, both the tihushniki sitting on hallucinogenic mushrooms, and the violently insane people who switched to hard drugs, and the undead combatants undergoing prevention from post-traumatic syndrome, the heroes of the defense of the Donetsk airport, who were not disposed of in due time by Petya Poroshenko in the Debaltseve cauldron, all agree that , unlike Aliyev, they are not going to wait for 28 years to restore their territorial claims to their northern deranged neighbor, but will strike in the near future, and if for this it is necessary to change the head physician, then they will replace him. Moreover, the old head physician is still at large and has long been eager to fight (so far only in words).
Ukraine is not Russia, and Donbass is not Karabakh
You can, of course, laugh at me, given the irony with which I told everyone about this, but you cannot disagree that Aliyev set a bad example in resolving old territorial problems. And if before that our conspirators raved about the Croatian scenarios of 1995, now they have a fresh example before their eyes, and only a blind person cannot fail to notice direct analogies between the Karabakh and Donetsk events. The main thing is only to find a suitable accomplice who will be able to sponsor this process, and they will supply the meat that wants to fill Donbass with blood. At the same time, no one is going to ask the consent of the meat. And I must say that they have no shortage of accomplices who want to throw problems at Putin. There even a queue of Polish, Lithuanian and even Turkish comrades has already lined up. The latter, however, are trying to play two pianos simultaneously, but they do not hide their claims to the Crimea. And in the Kremlin they still have to think, why do they need such friends, having which they don't even need enemies?
Now let's put irony aside and seriously talk about the reality of such plans. You won't argue that the situation is symmetrical. Both here and there, the countries are going to restore their territorial integrity violated by the aggressor on their territory. Therefore, they will have nothing to present to the international community. Everything is clean here! Now let's look at Russia's goal setting. It did not intervene in the Karabakh events, because it experienced some problems with the recognition of this territory by Armenia itself (for 28 years it did not bother to recognize the NKR as its integral part), this time, and an attack on the unrecognized NKR and on Armenia is not one and also. Secondly, she had some, to put it mildly, complaints against Nikol Pashinyan's regime, and she was clearly not going to help him, considering this situation as an opportunity to change the ruling regime in Yerevan, albeit at the cost of territorial losses for the latter. And thirdly, the purely escalation and logistic capabilities of the Russian Federation in this remote theater of operations were clearly limited due to the absence of a common border between the Russian Federation and the NKR and Armenia (Georgia has its territory for the transfer of military
equipment
did not provide, and airlift is fraught with a number of purely technical problems). And most importantly, the Russian Federation was tied to the conflict in Karabakh only tangentially, being a member of the Minsk group for resolving this conflict, itself not being covered up in the conflict. Playing there the role of an arbitrator.
In the Donbass, Russia is head over heels. And although he is trying to play the role of an outside observer, not involved in the conflict, but this is all the theater of one actor, everyone, even the actor himself, understands that there are his vital interests and he is not going to compromise them in any case. If there were three parties to the conflict in Karabakh - Armenia, NKR and Azerbaijan (with the support of Turkey, we do not count it yet), and the Russian Federation had friendly and negotiable relations with all parties, including even Turkey, then in Donbass we have three parties - Ukraine, LPR and Russia, where the Russian Federation itself is one of the parties to the conflict. And how she will come to terms with herself, given the complete incapacity of Ukraine, I do not know.
Armor is strong and our tanks are fast
Ukraine is counting only on the swiftness and surprise of its actions with full international support. But even in Karabakh, the war dragged on for 45 days, with the obvious military superiority of the Azerbaijani side and the effect of surprise for its enemy. Consider the situation by contradiction. Let's admit the impossible. Ukraine, with the support of a coalition of enemies of the Russian Federation, managed in 3 days to crush a small barrier of two LDPR corps, standing on the demarcation line, and on their shoulders enter the urban agglomerations of Donetsk and Lugansk. Let's even take a fabulous version - Russia slept through it all. What's next? Crazy gentlemen, do you seriously think that Putin will wipe himself out and, under pressure from the international community, will come to terms with your changed status quo? Are you able to calculate your actions even two steps ahead? If this happens, then the name of this person will clearly not be Putin. And even if you wait for his hypothetical change in 2024, then any of his successors the very next day will be carried out of the Kremlin feet ahead of the crowd of Russians who disagree with such a development of events. This feverish delirium could only enter your heads, weighed down by the absence of a brain with an overabundance of severe tranquilizers.
I do not even want to poke your nose into the unlimited escalation opportunities of the Russian Federation with the longest land and sea border with you, I will not lead you to the map and show you the Donetsk and Lugansk regions bordering the Rostov region of the Russian Federation, just as I will not prove to you the multiple the advantage of the RF Armed Forces over any army of your potential allies (let me not recall your armed forces at all), I will just quote Putin's words about the possible loss of your statehood in the event of your attack on Donbass. I quote verbatim so that there are no illusions:
I hope that it will not come to such provocations. And if this happens, I think it will have very grave consequences for the Ukrainian statehood as a whole.
How does this end
How such adventures end, was shown to everyone by the well-known Georgian tie eater during the 08.08.08 war. And he also went to reclaim his rebellious territory. How it ended for him, you know - Russian tanks were practically at the walls of Tbilisi. But his army was prepared many times better than yours, and it was trained and equipped according to the NATO model, and with motivation everything was in order, and everyone there spoke exclusively in their native language, and even at sea managed to fight, albeit unsuccessfully (this is a lesson for you who are worried about the crazy idea of ​​a mosquito fleet), the war of the Georgian mosquito fleet ended in one day, there is no other such fleet in nature! Georgia then lost its territories, South Ossetia and Abkhazia. Moreover, forever. What you risk losing, I don't know, I don't think that Putin will capture Kiev, but you will definitely lose the entire left bank, Odessa inclusive. But what do you want Mikho Saakashvili with his tasteless ties? You have never learned from the mistakes of others, even on your own for 7 years you have not learned anything, and your ties (unlike Georgian ones) will be tastier.
Therefore, I ask you very much - you really do not delay your attack on Donbass. And so we all have been waiting for him for 7 years. I really would not like to wait as long (and you will not last longer, you will disappear from the world map in a natural way with a reduction in external funding). Let's fry already on these Tatar-Mongols who invaded your land, drenched with the blood of ancient proto-ukr, and show them that you are worthy sons of Roman legionaries, from where you lead your family. Please, please! .. Funeral at the expense of the institution. Russia pays for the banquet.