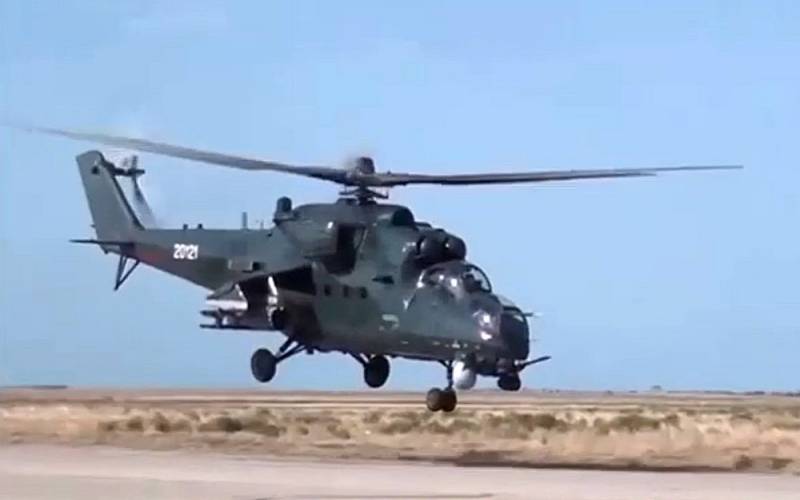 On November 21, 2020, a video appeared on the Web showing how a pair of Mi-35M multipurpose transport and combat helicopters of the Azerbaijan Air Force is working on Armenian positions in Nagorno-Karabakh. The footage shows how rotorcraft alternately launch unguided missiles and go to the merry-go-round, and the military observing this is enthusiastic about what is happening.
Where exactly and when the video was filmed is not specified, but it is safe to say that the actions take place before November 10, 2020, i.e. before the start of the ceasefire in accordance with the tripartite agreements. The contingent of Russian peacekeepers in the region, at the time of publication of this information, had not yet recorded ceasefire violations.
The landscape in the video really resembles Nagorno-Karabakh. At the same time, one of the servicemen could easily film what was happening on the phone, and when the opportunity arose, he published it on social networks. One can clearly hear the word "Russia!" On the footage, which is shouted by one of the Azerbaijanis watching the work of the helicopters. What is meant, however, is not clear.
It should be added that as of 2016, Azerbaijan had 24 Mi-24 units and the same number of Mi-35M units in service. Moreover, the Mi-24s underwent a South African upgrade to the Super Hind Mk5 version and received the nickname "African Crocodile". Specialists from South Africa supplied them with new navigation equipment, radar, fire control system, laser range finder, sighting system, defense and electronic warfare equipment, rotor blades were made of composite materials and installed a 20-mm automatic cannon. At the same time, the Mi-35M does not need any improvements, according to the Azerbaijanis themselves.