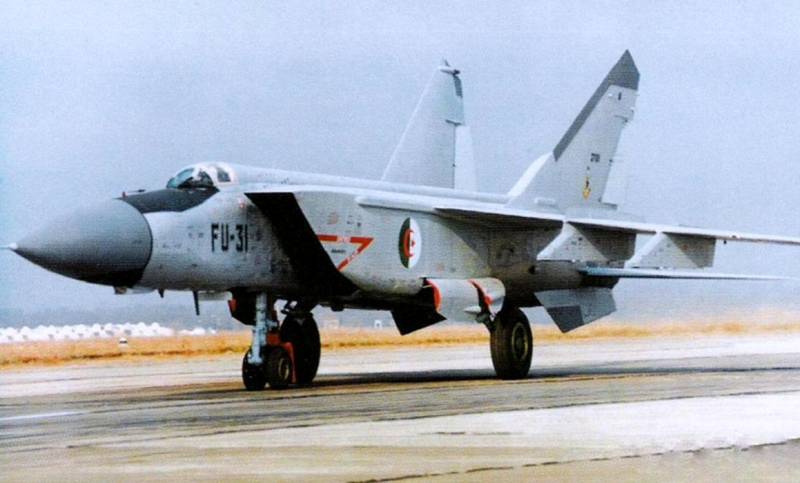 According to a number of sources, the Algerian Defense Ministry is going to purchase 14 fifth-generation Su-57 heavy fighters from Russia. They should replace 15 still in service with Soviet, but well-modernized heavy high-altitude interceptors MiG-25, which should be removed from service in 2028, writes the American edition of Military Watch.
By the end of 2027, the Russian Aerospace Forces will have about 80 Su-57 units. The design of these aircraft is more ambitious than that of the experimental MiG 1.44 and Su-47. The Su-57 uses a number of
of technologies
of the sixth generation, which are not integrated into any other aircraft of the fifth generation. By purchasing these fighters, Algeria will confirm its title of the foremost customer of the most advanced Russian weapons systems.
In addition to the aforementioned MiG-25s, the Algerian Air Force has light fighters.
MiG-29 of various modifications
, tactical front-line bombers Su-24M and heavy multipurpose Su-30MKA.
Algerian MiG-25s are the most advanced aircraft in their class. They are equipped with a good electronic warfare system and are armed with R-40 medium-range air-to-air missiles with a flight speed of Mach 5.
But the operating costs of the MiG-25, which still use Soviet technologies, have become too high, so it is more profitable for Algeria to abandon them and purchase the Su-57, saving a lot of money. While the Su-57 is the most expensive Russian-made fighter, and costs roughly $ 125 million per unit, including pilot training and maintenance, overall it will really reduce the costs of the Algerian Air Force.
The difference in operating costs for the Su-57 weighing 30 tons over its service life will cover most of the costs associated with the use of the MiG-25 weighing 34 tons. The operating costs of the MiG-25 were so high that even the USSR could simultaneously operate no more than a few hundred MiG-25s.
It remains to be seen whether Algeria will acquire more Su-57s, but such purchases are likely to occur in the next 15 years, as developed countries gradually move to use fifth and sixth generation fighters, making the Algerian Air Force's existing fleet obsolete.