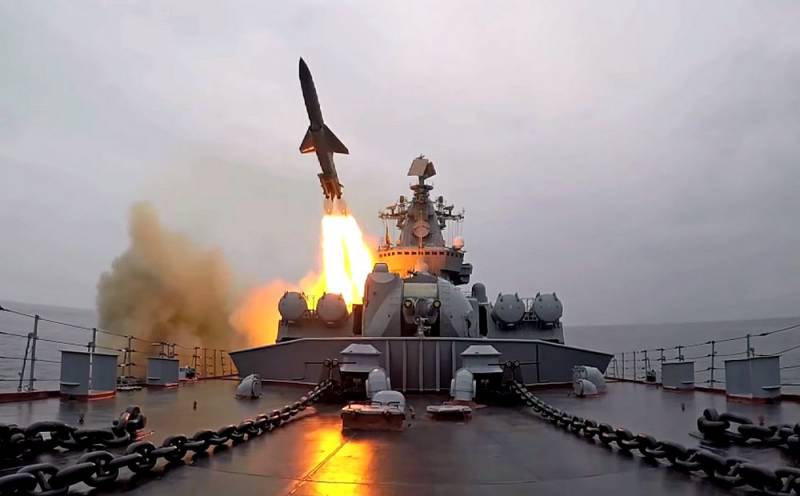 According to Western military experts, a hypothetical battle between American and Russian cruisers could be an epic sight. Business Insider analysts have found out who will win such a fight.
The cruisers of the project 1164 "Atlant" ("Glory" according to NATO classification) are serving in the Russian Navy. The largest cruisers of the American naval forces are the ships of the Ticonderoga project. According to the American publication, both warships have similar combat capabilities - they have air defense systems and can attack submarines and surface targets.
The Ticonderoga is armed with the Mark 45 artillery gun, the Mark 15 Phalanx anti-aircraft gun, as well as the Mark 41 vertical launch rocket launchers - they can use various types of missiles, including the Tomahawk. The ship is also armed with 8 Harpoon anti-ship missiles.
Russian cruisers "Atlant" are equipped with S-300F air defense systems, 16 heavy anti-ship missiles P-500 "Basalt" (in fact, P-1000 "Vulkan" - ed.), Six multi-barreled 30-mm guns AK-630, double-barreled artillery a 130 mm gun, as well as M-4 Osa-M anti-aircraft systems and torpedoes.
The outcome of a possible confrontation between Russian and American ships will depend on who first detects the enemy, after which an exchange of missile strikes will take place. Atlant has more anti-ship missiles, and each of them can cover a distance of more than 350 km and, if hit, cause irreparable damage to the cruiser Ticonderoga. But at the same time, the "Basalts" have a significant drawback: high-flying Russian missiles can be intercepted by the missile defense systems of an American ship.
Tikonderoga type missile cruiser
In turn, Harpoon anti-ship missiles flying over the water surface have a better chance of hitting the target - a couple of shells will definitely reach the Russian cruiser
- notes Business Insider.
On "Atlanta" combat control systems will be flooded and disabled, the ship will be on fire, the newspaper believes.
The "patriotic" craftiness of Business Insider that the Russian cruiser will not stand up to the American Ticonderoga does not stand up to even the simplest criticism. The range of the P-1000 Vulkan supersonic missile is at least 700 km (and according to a number of sources, after the upgrade of the launch and acceleration stages - up to 1000 km), while the maximum flight range of the subsonic Harpoon is limited to 300 km.
Missile cruiser project 1164 "Marshal Ustinov"
The anti-ship variant of the RGM / UGM-109B Tomahawk cruise missile, which covered a distance of 550 km, was retired from the US Navy nearly 20 years ago. The American ships are not carrying any other ammunition capable of hitting the Russian Project 1164 cruiser at a distance of more than 700 km. From which it follows that the strike on the "Ticonderoga" will be delivered long before the "Atlant" enters the zone of its destruction.