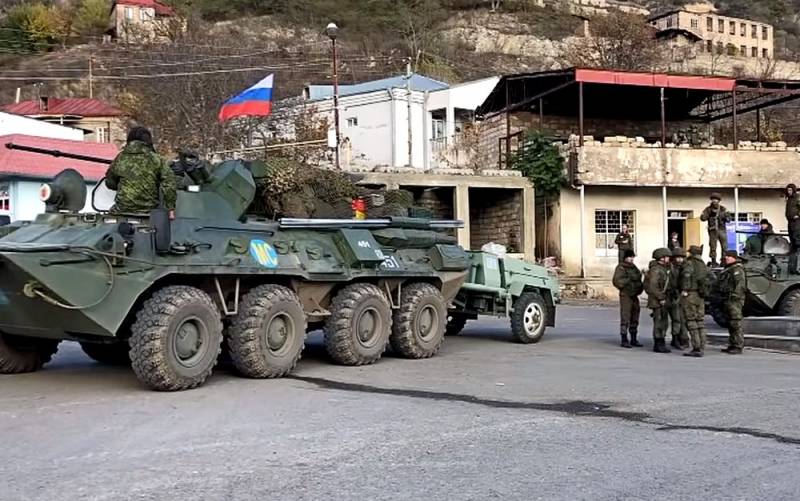 In the conflict on the territory of Nagorno-Karabakh, Ankara played the role of an active ally of Baku, which it has positioned itself to be since 1994. This was stated by a military expert, head of the South Caucasus branch of the Ukrainian Center for Army Research, Conversion and Disarmament (Tbilisi), Vladimir Kopchak, on the air of the Ukraine 24 TV channel.
The expert, commenting on the situation in the region, drew attention to the fact that Turkey provided Azerbaijan with military specialists and advisers, and also provided a serious military
technical
support. In addition, Ankara served as a kind of "safety net" against direct Russian interference in the conflict on the side of Armenia, while the hostilities were conducted on the territory of Nagorno-Karabakh. In his opinion, the introduction of the Russian peacekeeping contingent is a military intervention in the territory of Azerbaijan.
Formally, Russia has implemented its long-standing and many times modernized plan by Sergei Lavrov, which it constantly promoted. Its invariable attribute was the presence of "Russian peacekeepers" on the territory of Azerbaijan
- said the expert.
He believes that now Ankara and Baku must jointly oppose Moscow's "further total influence", both in Nagorno-Karabakh and in the South Caucasus region as a whole. He is confident that Russia has achieved the maximum result for itself. Moreover, in very unfavorable current conditions for themselves. At the same time, further ways of resolving this conflict are very vague.
The Russian military urgently needed to enter (Nagorno-Karabakh - ed.). They set tough conditions, first of all for Azerbaijan, and then for Armenia. After consultation with Ankara, they implemented it
- he added.
He stressed that Turkey in any case would like to maintain its presence in Azerbaijan. Now the main thing for Ankara and Baku is to ensure the Turkish military presence on the new line of contact of the parties. If they achieve this, it will be possible to say that Azerbaijan compensated for the Russian military presence on its territory.