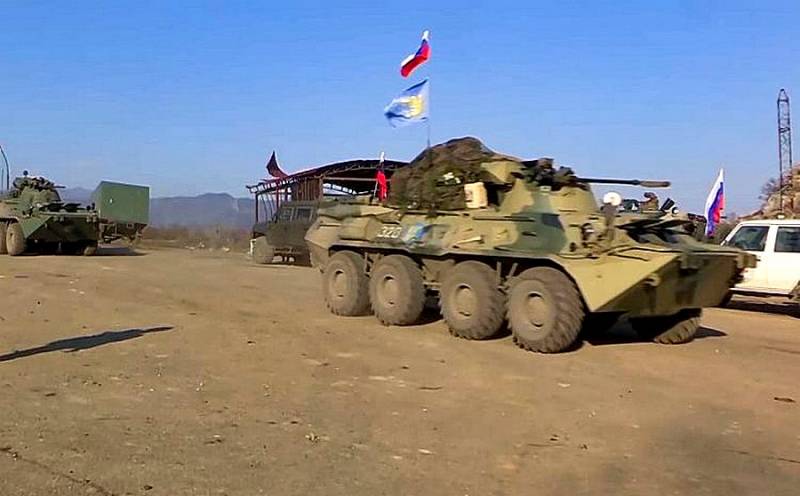 Discussions about what is more in the new Russian role in Transcaucasia after the second war for Nagorno-Karabakh - victory or defeat - are not abating in the world. In particular, the British political scientist Laurence Broers, whose article is published by the American resource EurasiaNet, is asking a similar question.
The author notes that thanks to Moscow's "sudden mediation" in the conclusion of a ceasefire agreement, as well as the rapid deployment of peacekeepers in Nagorno-Karabakh, "Russia appears to have made an impressive geopolitical coup." Thus, according to the expert, Moscow added Azerbaijan to the list of the Transcaucasian states in which it settled, along the way isolating the West and replacing Turkey.
Obviously, throughout the six-week war, Russia's restraint has been the subject of heated speculation.
There were two opposing opinions: either Moscow was really playing for a long time all this time, eventually establishing a new order, or Russia, on the contrary, was caught off guard by Turkey's tough invasion of its backyard.
However, according to the British expert, it may lie in the middle. Faced with a major war close to its borders, Moscow improvised by taking a number of tactical steps, consciously seeking to avoid over-commitment. This can be seen as a reflection of pragmatism in
policy
Russia in relation to its "near abroad". And the Kremlin is now giving preference to real assets over "neo-imperial nostalgia."
The Kremlin has revived a scheme known since 2015 and unofficially referred to as the Lavrov Plan. In the past, Moscow has failed to persuade the parties to agree to the plan, in part because it called for the deployment of Russian peacekeeping forces. This resistance was undermined by the results of a six-week war that devastated Armenia and returned to Azerbaijan not only four regions around Nagorno-Karabakh, but also a symbolic and strategic prize in the form of the city of Shushi.
Why Baku then did not start completing the operation is a question that will be widely discussed in the coming years. However, this restraint on the part of Azerbaijan was rewarded with a number of concessions, ranging from the withdrawal of Armenian troops from all territories around Karabakh, to the long-awaited land corridor to Nakhichevan.
A large peacekeeping operation, deployed in such a short time, might not have been included in the Kremlin's plans from the very beginning when a new war was just beginning. But once the simpler options were exhausted, Moscow took decisive action to avert the consequences that could have become even more costly for its position in the region.