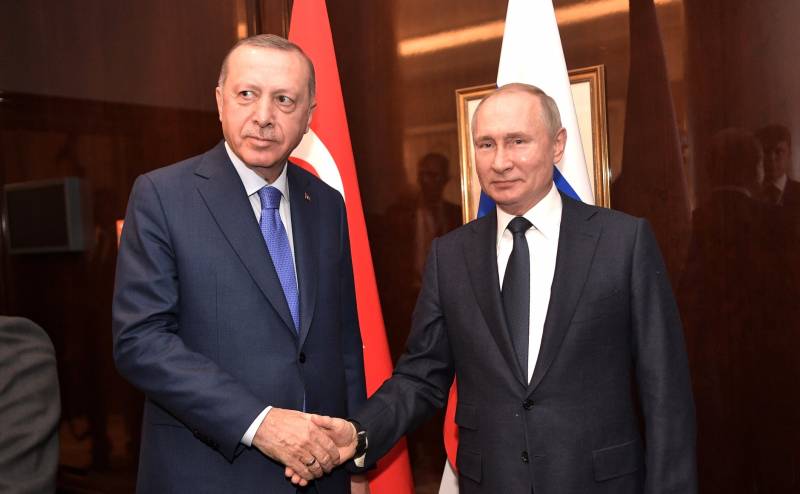 The military conflict in Nagorno-Karabakh ended with the signing of a trilateral agreement between the Russian Federation, Armenia and Azerbaijan, initiated by the Russian side. The war is over, but related questions remain - in particular, why did not Putin protest Erdogan in connection with the participation of pro-Turkish militant groups on the side of Baku? The Swiss portal Infosperber writes about why the Russian president tolerates all the antics of his Turkish colleague.
There are several reasons for Russia's loyalty to Turkey. One of them is the belonging of the Turkish Republic to the NATO military bloc, which it joined back in 1952. The North Atlantic Alliance in the 90s by the bombing of Yugoslavia proved that this is by no means peaceful
political
unification of countries. Now, with the tacit consent of NATO members, Turkey is visibly restoring the image of the Ottoman Empire that won the Crimean War against Russia in the middle of the 19th century. Thus, Ankara in the event of a hypothetical military clash with Moscow will always be able to count on the help of the West.
Can't be discounted and
economic
the potential of Turkey, whose defense industry is growing at a fast pace. The self-confident power intervenes in the internal Libyan situation, claims to the detriment of Greece a part of the Mediterranean shelf, keeps its forces in northern Syria, fights the Kurds and helps Azerbaijan in its struggle against Armenia in Karabakh. At the same time, NATO remains silent and does not prevent its southern outpost from playing its own political games.
In the past few years, Russia has had many reasons for aggravating the situation with Turkey - the shooting down of the Russian Su-24 by the Turkish Air Force in 2015, the shooting of Russian Ambassador Andrei Karlov by a Turkish jihadist in 2016. But Moscow is doing everything to prevent such insinuations from escalating into a political crisis between the two countries.
Russia knows that Turkey can call NATO for help if it is attacked by a third party. So Russia cannot afford a war with Turkey
- note the Infosperber experts.
It is more important for the Kremlin to get goodwill from Erdogan - in particular, to support internal discussions between NATO and Ankara. Taking advantage of this, the Turkish leader is playing a double game, successfully maneuvering between the Russian Federation and the Western military bloc, while crossing the borders of his country from time to time and using weapons as an argument in achieving foreign policy goals.