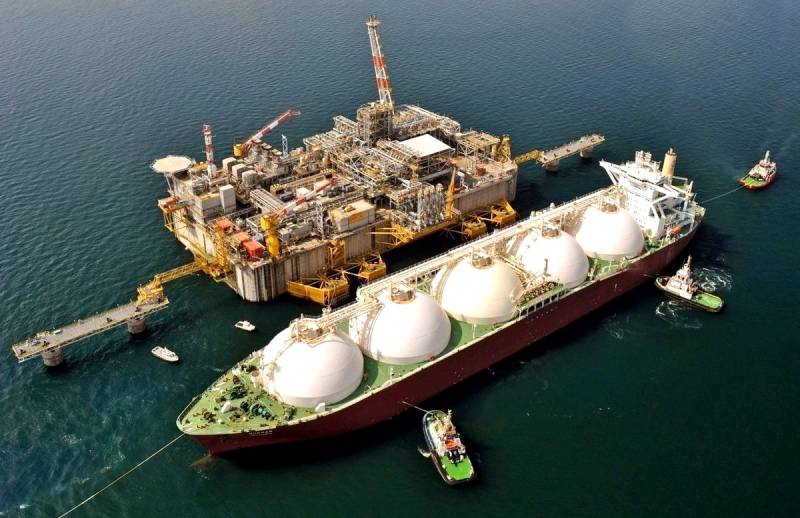 Just a year ago, Gazprom with its pipelines was noticeably losing ground in front of the upcoming LNG, which has a lot of competitive advantages. However, in 2020, a "perfect storm" developed on the global gas market, which also revealed some of the disadvantages of liquefied natural gas. How did it happen, and what conclusions can be drawn from this?
At first glance, LNG has some advantages. It is natural gas liquefied by refrigeration in specialized plants. After that, the fuel is pumped into gas tankers and sent to the consumer, where the regasification process takes place in a specialized terminal. This type of energy carrier was called the fuel of the future. LNG is non-toxic, easy to store and transport. It is profitable for the buyer to deal with him: he bought as much as necessary, not a cubic meter more, and the low price will be ensured by competition between numerous suppliers and the rules of trade at hubs. It was the latter that played a cruel joke with LNG projects. In 2020, several negative factors developed at once, which made investments in liquefied natural gas impractical in the coming years.
At first
, the coronavirus pandemic began in the spring, which led to a real "lockdown" of the world
economics
... Countries began to close themselves off from their neighbors, business activity fell to near-zero values, demand and production volumes decreased, and with them the consumption of hydrocarbon fuels. In addition, the winter of 2019-2020 was abnormally warm, so UGS facilities in Europe remained almost filled to capacity.
Secondly
, the pandemic was superimposed on the effect of a six-week trade war between Russia and Saudi Arabia, which led to a drop in oil prices. The falling price of "black gold" pulled down the gas contracts associated with them.
Thirdly
, the EU authorities urged to "keep in mind" the suppliers of hydrocarbon raw materials that they intend to completely "decarbonize" the EU economy by 2050. Similarly, Joe Biden, proclaimed the winner of the presidential race in the United States, is against oil. The democrat intends to proclaim a course for the transition to alternative, renewable energy. It would be extremely unwise to ignore the directly announced plans of the two largest world economies.
Taken together, these factors led to the fact that oil and gas prices fell to historic lows. The market is oversaturated with LNG, which has dropped sharply. Producers are operating at a loss, many suppliers preferred to pay fines for non-delivery than to drive tankers to Europe and Asia, where an oversupply of cheap raw materials was already formed. LNG plants have also stopped in Australia and the United States. Is it any wonder that investors are now choosing to pause new projects?
A year ago, the total investment in LNG projects was estimated at $ 60 billion, and capacities of 70 million tons were put into operation annually. Saudi oil company Saudi Aramco is renegotiating its stake in Port Arthur LNG in Texas. Freeport LNG in the same state has postponed a decision on the fourth stage of the LNG plant. When in Europe liquefied gas costs the same as in the United States itself, it is economically inexpedient to transport it overseas. This trend has not bypassed Russia either: Novatek postponed its Obskiy LNG for several years. In the current market situation, new large-scale investments in this sector are simply not interesting, here it would be to recapture those already made.
Of course, this will not last forever. In the next year or two, BigPharma will take control of the coronavirus pandemic, business activity will increase, consumption and production will recover, and with them fuel consumption. But you can forget about the previous 400-500 dollars per thousand cubic meters, it's good if they give 200 for it, which will undoubtedly make its own adjustments to investment plans.