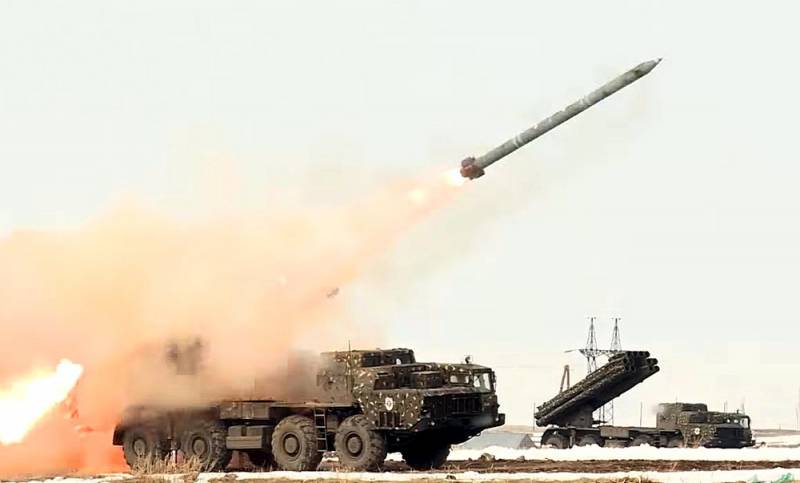 In social networks, footage of a massive attack of the 9K58 "Smerch" multiple launch rocket systems of Armenia on Azerbaijani positions was found. The firing range of the MLRS modification is 90 km, the combat crew is three people, the topographic referencing is carried out through satellite navigation. The area of ​​destruction of the installation reaches 67,2 hectares, the preparation time for a shot is about three minutes.
Presumably, the footage captures the moment of the return shelling of the Azerbaijani city of Ganja.
At the beginning of October of this year, Azerbaijani forces struck the city of Hadrut in the Nagorno-Karabakh Republic with "Tornadoes", a representative of the Armenian Defense Ministry Artsrun Hovhannisyan said on his Facebook. He emphasized the presence of wounded among the civilian population, as well as the use of cluster charges by Azerbaijanis.
Officially, the ceasefire agreement in Artsakh was signed on the night of November 9-10, 2020 on a Russian initiative with the participation of Vladimir Putin, Azerbaijani President Ilham Aliyev and Armenian Prime Minister Nikol Pashinyan. As a result of the conflict, most of the lands it lost during the first Karabakh war comes under Baku's control, and Russian peacekeepers are replacing the Armenian forces in the region.
The parties to the confrontation are busy calculating casualties, but so far neither Yerevan nor Baku is ready to publish data on the wounded and killed, especially since these figures are very different for different parties to the conflict.