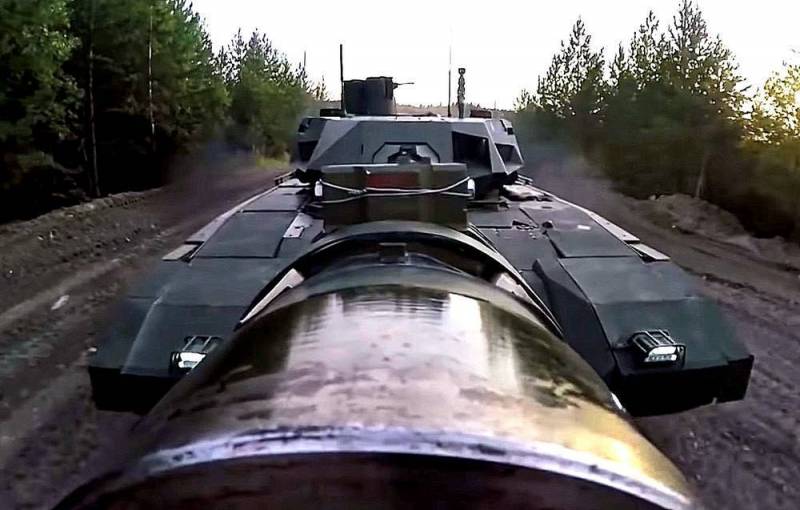 The new generation Russian battle tank T-14 "Armata", first introduced in 2015, is in service with the Russian army in limited numbers. Currently, specialists are developing a number of advanced
of technologies
expanding its capabilities and performing a tank of more diverse combat missions. Military Watch writes about the peculiarities of the Russian "Armata".
The Armata is one of three classes of fourth-generation tanks currently in service along with the South Korean K2 and Japanese Type 10. Nevertheless, it was recognized as only the second most efficient tank in the world after the Korean vehicle. However, the ambitious design of the Russian tank has the hidden ability to integrate new weapon systems and other technologies of the future.
Experts suggested equipping the T-14 with a heavy 152-mm cannon, which would provide a significant advantage of the Armata's firepower over its competitors. In the last years of the existence of the USSR, such a gun was created for the T-80 for experimental purposes. But the heavier Armata chassis is better suited to accommodate such a weapon.
The publication reminds that the Soviet Union during the Cold War deployed a wide range of tactical nuclear weapons. The use of tactical nuclear weapons is not part of the official Russian military doctrine, unlike the United States, although in recent years the Kremlin has invested in the development of more advanced, unconventional low-yield weapons. In this regard, the appearance of the T-14 in "nuclear design", although unlikely, is still possible.
NATO countries are gradually switching to using their own fourth-generation armored vehicles. For example, Poland is considering the purchase of South Korean K2 tanks. In this regard, the calls to equip the T-14 with a cannon of increased power instead of the 125-mm gun used now are quite justified.