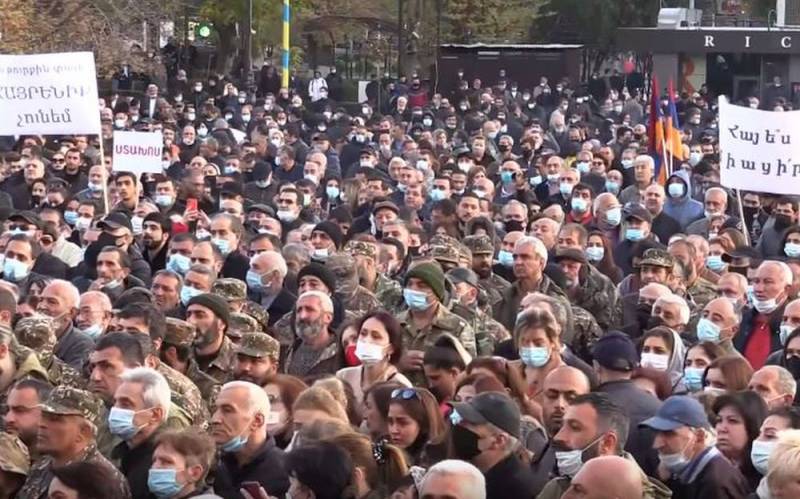 Signing of the tripartite
agreement
on Nagorno-Karabakh by the leaders of Russia, Armenia and Azerbaijan, many Armenians perceived as the capitulation of Yerevan and the betrayal of the country's Prime Minister Nikol Pashinyan. The French newspaper Liberation writes about this, the journalist of which was in the Armenian capital and talked with the protesters who demanded the resignation of the head of the government of their country.
The protesters directly accuse Pashinyan of transferring Armenian lands under the control of Azerbaijan. Refugees from Nagorno-Karabakh are confident that now they will not be able to return to where they and their ancestors lived for decades.
Armenians are outraged that this agreement was signed under cover of night, and even secretly. Therefore, they came to Freedom Square to say everything they think about it. Some citizens are convinced that Nagorno-Karabakh would have withstood and repelled the aggression of Azerbaijan. Stepanakert was preparing to launch a counterattack and drive the enemy out of its territory.
What has he done? This agreement is a stab in the back!
- said one of the interlocutors to the representative of the French press.
Refugees from Nagorno-Karabakh, whom she sheltered, now live in her house. In her opinion, they have no hope for the best. They will not be able to live surrounded by aggressive Azerbaijanis. In addition, the refugees do not believe that the Russian peacekeepers will be able to protect them, the newspaper concluded.