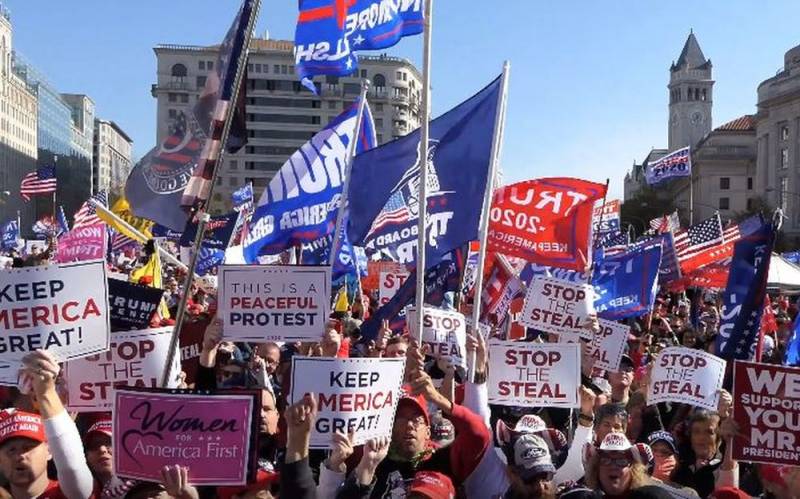 On November 14, 2020, tens of thousands of supporters of the incumbent US President, Republican Donald Trump, came to Washington and staged the For Fair Elections march. The protest action was directed against the rigging of elections of the head of state, of which the Democratic opponents are accused.
Trump supporters in the US are unofficially referred to as "the silent hinterland" These people mostly work and do not have time to participate in demonstrations and other public events. But after they became aware of the numerous manipulations in the process of counting ballots, they began to be indignant and expressed their attitude to what was happening in the country.
They believe that their votes were stolen and, without hesitation, publicly announced this, marching to the building of the US Supreme Court and demanding a recount of ballots. Trump expressed his gratitude to the people who supported him by posting a message on his Twitter account.
In turn, supporters of the Democrat presidential candidate Joe Biden pulled up to the scene. These were mainly representatives of the left-wing radical forces, the Antifa movement and the Black Lives Matter group. Representatives of the democratic public provoked the "wrong Americans" and waited for the evening time of the day, as the police actively interfered with the confrontation.
At approximately 19:00 local time (03:30 Moscow time on November 15, 2020), aggressive supporters of Biden began to arrange brawls with opponents. Riots broke out in the US capital. Active democrats, using firecrackers, pounced on the Republicans with fists, taking away their symbols and paraphernalia in order to burn or destroy in another way. Such a democracy with fists ...
About an hour later, it was reported that one of Trump's supporters (a 20-year-old boy) was stabbed in the back. He was taken to the hospital in serious condition. The entire description took place within a five-block radius of the White House.