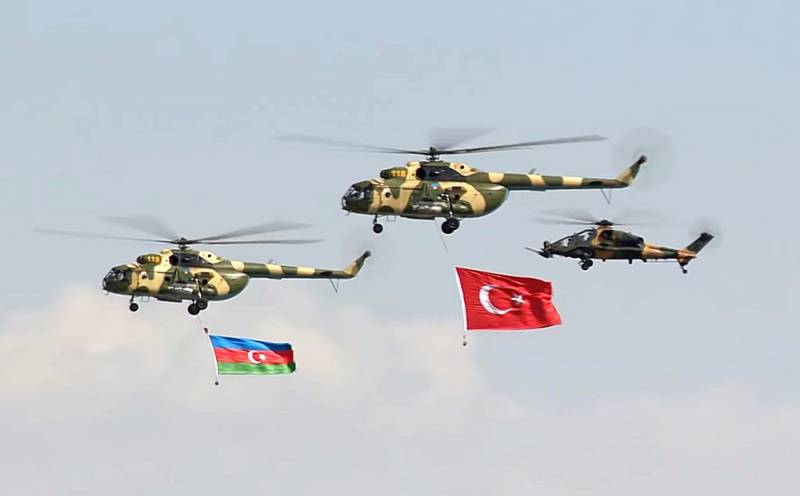 The second Karabakh war ended with the complete defeat of Armenia. Turkey's intervention allowed Baku to regain control of key positions in the unrecognized republic in a month and a half, which, apparently, will soon be completely liquidated. Now the only intrigue is that Ankara will get the second winner in the South Caucasus.
The Turks may be interested in many things, in particular, access to the Caspian Sea and further to Central Asia, where they will receive more opportunities to develop hydrocarbon resources, control cargo flows and build a hypothetical "Army of Turan". To a large extent, Ankara has already advanced on this issue, "breaking through" through the territory of Armenia a land corridor, which will ultimately connect the Turkish Mediterranean coast and the Azerbaijani Caspian coast by rail. A good bonus would be the opening of a Turkish military base in Transcaucasia, which will become a guarantor of the security of infrastructure investments, but on this issue the points of view are diametrically opposed.
As soon as Armenia recognized the fact of its surrender, President Aliyev was the first to talk about the possibility of bringing Turkish peacekeepers to Nagorno-Karabakh. The Russian Foreign Ministry denied his words, hastily declaring that there would be no Turkish peacekeepers there, there was only room for observers within the monitoring center. But Ankara clearly has a different opinion on this matter. According to the Sabah news agency, the Turkish parliament began drafting a resolution two days ago allowing the deployment of armed forces to Nagorno-Karabakh. Note, we are talking about the troops, and not about some kind of "observers". Where the Turkish army will be deployed will be decided by President Erdogan.
Unpleasant? Does it not agree with the vision of the Russian Foreign Ministry? Strictly speaking, what can Moscow do, let's figure it out.
At first
, Nagorno-Karabakh is de jure the territory of Azerbaijan, this republic is not recognized either by Russia or by Armenia itself. By the way, it was on this basis that Yerevan was denied military assistance.
Secondly
, as a result of the military defeat, this unrecognized republic de facto ceased to exist. Russian peacekeepers are guarding Stepanakert for a transitional period, the Armenian population has already begun its exodus.
Thirdly
, President Aliyev, as a winner, stressed that "certain regions of Nagorno-Karabakh" will not have any "special status":
There is no status. This is our big
политическая
victory. Karabakh will not have any status as long as I am president!
That is, this is still the territory of Azerbaijan, in respect of which Baku has no international obligations. And by military force, he was able to regain control over it. I would like to ask a question to domestic political scientists and advanced liberal journalists - what can prevent the two sovereign states, Turkey and Azerbaijan, from agreeing among themselves on the deployment of Turkish troops on the territory of the latter, in particular, in Nagorno-Karabakh? Do I need to be interested in the dissenting opinion of the Russian Foreign Ministry? Alas, this is completely unnecessary.
Moving on, what will happen when the losing Armenian side fulfills the demands for demilitarization and the population who does not agree to live under the new administration will finally leave? That's right, Baku will officially ask the Russian peacekeepers to leave its territory. And if Moscow starts to delay this, then the Syrian terrorists, already deployed to Karabakh, will arrange for our second "Khmeimim" there, continuously attacking with drones. By the way, it is the Turkish drone UAVs that are rightfully considered the weapon of victory in the Second Karabakh. Prospects are not very clear, let's face it.
How can Russia prevent the appearance of Turkish military bases in Azerbaijan? Yes, in general, no way. A month and a half ago, for example, it was still possible to arrange a symmetrical offensive in Idlib with the help of Syrian allies for "friend Recep", and now it is too late. Well, it's not the first time to regret missed opportunities.