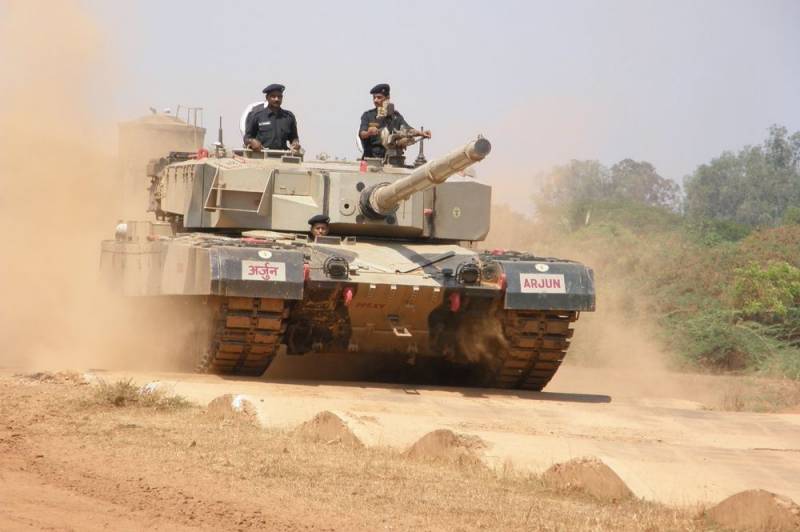 Indian Prime Minister Narendra Modi, dressed in camouflage, was spotted on a 68-ton Arjun Mark 1-A Hunter Killer tank equipped with a 120mm cannon during a trip to Longuewala post in Rajasthan. The head of the government went there to celebrate the largest Indian holiday Diwali ("fire cluster" - a kind of analogue of the New Year) with soldiers, writes The Print newspaper from India.
Modi said that if China decides to encroach on the country, then India is ready to give a tough response to Beijing. The appearance of the premier on a tank made in India has sparked excitement at the Defense Research and Development Organization (DRDO). They expressed the hope that this is a signal in support of the local manufacturer and that the Indian army will not refuse to order 118 such tanks.
I was so happy to see the Prime Minister on the Arjun MBT. At the same time, we hope that the order by the army of two battalions Mk 1-A will be accelerated
- said the representative of the Center for Research and Development of Combat Vehicles (CVRDE) in Chennai (part of DRDO).
The COVID-19 pandemic and tensions with China have slowed the arrival of Arjun tanks into the army. At the same time, he received 14 improvements and became the most protected MBT in the Indian arsenal. He now has mine plows, and the 12,7 mm machine gun can now be controlled from inside the tank.
The Arjun MBT project was launched in the mid-70s. However, it was only in 2004 that the first two tank battalions entered the army. In 2010, the Arjun MBT surpassed the Russian T-90 during tests in the desert. At least that's what the Indian side claims. But a number of problems, including being overweight, made it difficult to use. An improved version of the Indian tank has now appeared.
The Indian army currently has 124 Arjun tanks deployed in the Jaisalmer desert along the border with Pakistan, Indian broadcaster NDTV reported. The appearance of the prime minister on a tank on such a day also became symbolic and indicates "the victory of light over darkness," as the Indian media write. The holiday lasts five days and is dedicated to the fact that, according to legend, a divine doctor, the embodiment of the god Vishnu, the father of medicine and Ayurveda, Dhanvantari, who healed everyone, appeared from the waters of the Ocean of Milk.