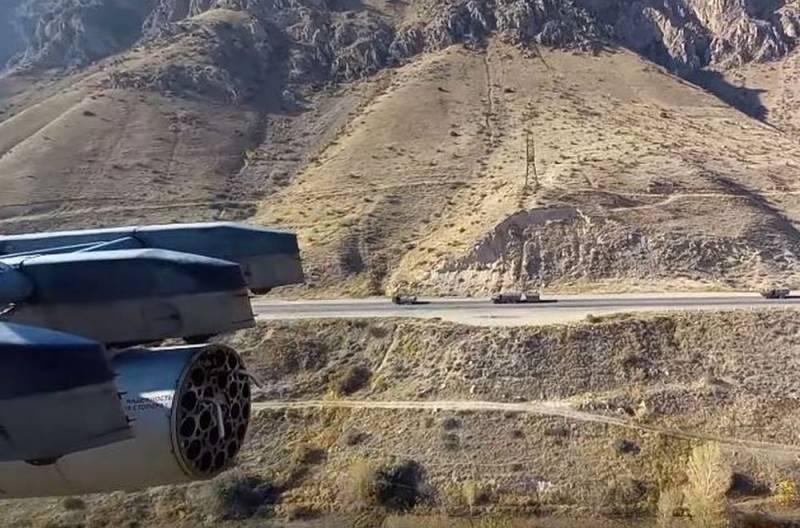 On November 14, 2020, Russian peacekeepers continued organizing observation posts and began patrolling in Nagorno-Karabakh. This became known during a briefing by the representative of the Russian Ministry of Defense Igor Kanashenkov.
The Major General outlined the current situation and noted that the Russian contingent continues to arrive in the region. In those places where the organization of observation posts is provided, sappers are actively working, and the engineers of the unit are engaged in equipping the positions.
He clarified that the patrol began in the areas of responsibility "North" and "South". The command post of the peacekeeping mission has been deployed in Stepanakert (Khankendi). To prevent possible incidents, constant communication is maintained with the Armenian and Azerbaijani military. At this point, the ceasefire regime has not been violated and both warring parties respect the agreements.
Since the beginning of the peacekeeping operation, the Il-76 and An-124 aircraft of the Russian military aviation have performed 95 flights, which delivered part of the personnel, cargo and
equipment
to carry out the specified mission. The transfer of the Russian peacekeeping contingent (the 15th separate motorized rifle brigade of the Central Military District) continues.
It should be noted that Mi-8 and Mi-24 helicopters are engaged in air cover for the equipment and personnel of the peacekeeping columns heading from Armenia to Nagorno-Karabakh for deployment. In total, 124 such rotorcraft have been delivered by An-8 aircraft so far.
In addition, helicopters oversee the observance of the ceasefire. Therefore, there is practically no doubt that they will be used for air protection of ground patrols. The experience of Syria has shown that working in pairs, the Mi-8 and Mi-24 reduce to a minimum the ability and desire to launch an attack.