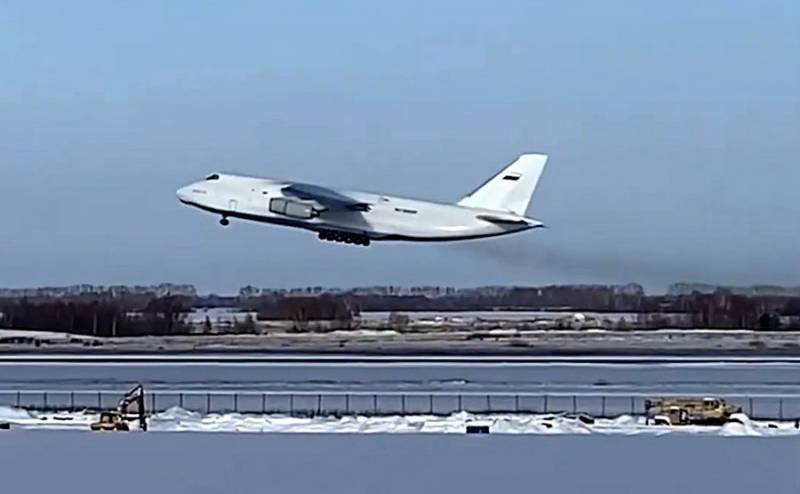 November 13, 2020 heavy long-range transport aircraft An-124-100 "Ruslan" (registration number RA-82042) of the Russian cargo airline "Volga-Dnepr"
committed
emergency landing at Tolmachevo airport (Novosibirsk). The plane was heading to Vienna (Austria), but about two minutes after takeoff, one of its main engines failed, which began to crumble in the air, writes the American online edition The Drive.
At the time of the incident, there were 14 crew members on board. The regular crew consists of six, but more people may be required to complete missions over long distances. Those who do not fly the aircraft are in a separate room on the upper deck behind the cockpit. The plane was unloaded. On landing, his front landing gear broke and he rolled off the runway. As a result of a dangerous emergency, no one was injured, the fragments of the engine miraculously did not touch anyone and did not do any harm. One of them broke through the roof of a warehouse on the ground.
An-124 was developed by the Antonov Design Bureau in Kiev (Ukrainian SSR) in the 70s. In December 1982, he first took to the sky. The aircraft were assembled both in Kiev and at the plant in Ulyanovsk (RSFSR). A total of 55 such aircraft were produced. They were equipped with four three-shaft propulsion engines with a high bypass ratio of the D-18T turbojet engine (series 3) and two auxiliary power units TA-12. The D-18T engines, with a takeoff thrust of 23,4 tons, were produced by the Zaporozhye Machine-Building Design Bureau Progress named after Academician A.G. Ivchenko. Moreover, there is already a more advanced unit (series 4) with a capacity of 25,4 tons. But the severance of relations between Ukraine and Russia in 2014 made it impossible to acquire additional engines and spare parts for the Russian An-124. Maintenance has also become problematic.
Russia wanted to restore production of the An-124 in Ulyanovsk. In 2020, the first improved An-124 was supposed to appear, but these plans were not destined to come true. Kiev completely stopped cooperation and cooperation with Moscow in the field of aircraft construction and retained the rights to the An-124.
As of 2016, the VTA VKS RF had 26 such aircraft, but only 9 were ready for flight. Russia returns 1-2 such aircraft to service annually. But each time it becomes more difficult to do this, and the total number of Ruslans is gradually decreasing. So Russia started developing its own heavy aircraft called the Elephant.