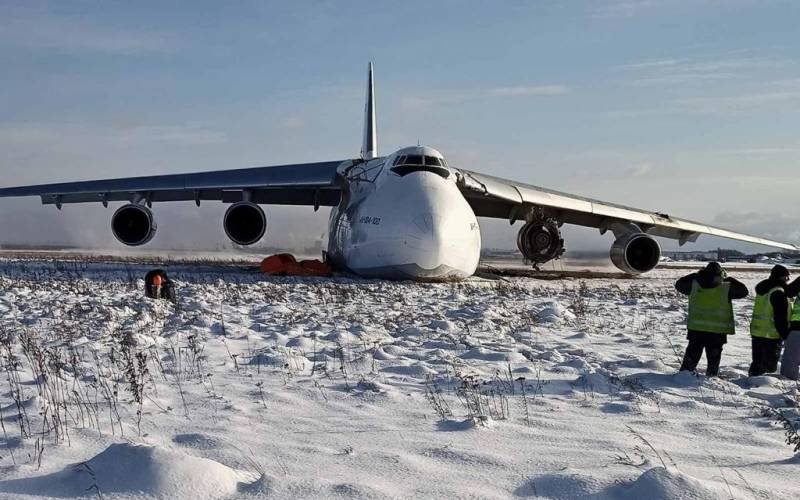 The Russian military transport aircraft An-13 Ruslan of the Volga-Dnepr company made an emergency landing at the Tolmachevo airport in Novosibirsk on Friday, November 124. According to preliminary data, the aircraft's engines failed and radio communications were out of order.
According to official information, at about noon (8 a.m. Moscow time), the liner of the Novosibirsk-Vienna flight departed from the airport and after 10 minutes made an emergency landing in Tolmachevo. According to the captain of the aircraft Yevgeny Solovyov, the second engine, which had reached no more than 300 meters in height, "flew apart", disconnecting the entire airliner - the pilots had to land a heavy transport aircraft in the absence of communication. "Ruslan" sat on the lane with inoperative brakes and reverse thrust, but could not stay on it and rolled out of it.
Parts of the turbine, which fell off at a height of several hundred meters from the engine of the "Ruslan", pierced through the roof of the warehouse on the ground and miraculously killed no one
- notes the telegram channel Baza, saying that the aircraft almost began to fall apart in the sky over the city.
During the incident, none of the 14 members of the An-124 crew were injured. The department of the West Siberian Investigation Directorate of Novosibirsk initiated a pre-investigation check of the incident on board the aircraft.