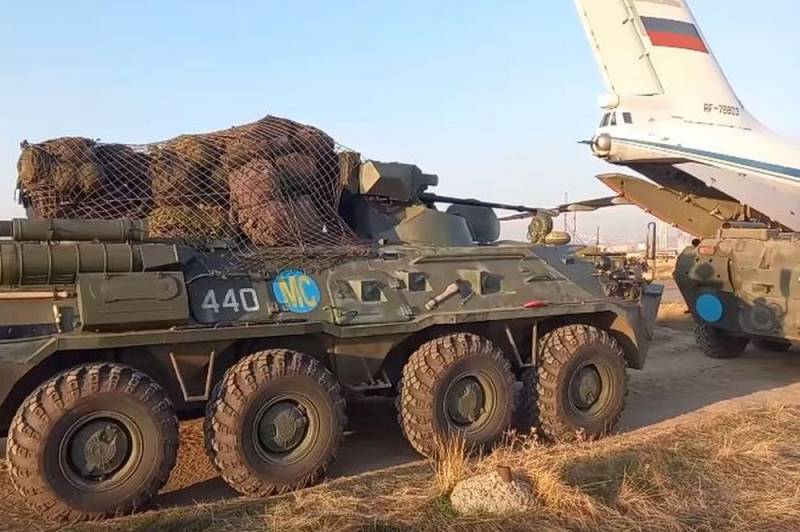 Over the past few days, Moscow and Yerevan on the one hand, and Baku and Ankara on the other, have been making contradictory and mutually exclusive statements on Nagorno-Karabakh. It all started with the fact that on November 10, 2020, the President of Azerbaijan Ilham Aliyev
сообщил
that the Turkish "blue helmets" will join the Russian peacekeepers in the disputed region.
After that, high-ranking officials in Russia and Armenia
refuted
his statements. They drew attention to the fact that the agreement reached at the trilateral negotiations does not provide for Turkey's participation in the agreed mission.
However, on November 11, Turkish President Recep Tayyip Erdogan announced that the Turkish military would soon appear in Nagorno-Karabakh on the same basis as their Russian counterparts. He specified that a protocol has already been signed on the creation of a joint Russian-Turkish center to control and monitor the ceasefire regime in the region. The consultations will continue after the arrival of the Russian delegation to Turkey.
In turn, on November 12, Russian Foreign Minister Sergei Lavrov informed journalists that there would be no Turkish peacekeeping units on the territory of Nagorno-Karabakh. He specified that a special stationary joint Russian-Turkish monitoring center will be located on the territory of Azerbaijan. There are no field missions for the employees of this center, since it will work exclusively remotely. The Turks will be able to monitor the situation and the observance of the ceasefire from drones. This will limit their activities.
The Russian minister added that intensive negotiations have been going on with the parties to the conflict over the past few weeks. Moscow coordinated a peacekeeping operation. After the agreement was signed, no attempts were made to disrupt the agreement, since the parties are interested in its observance.