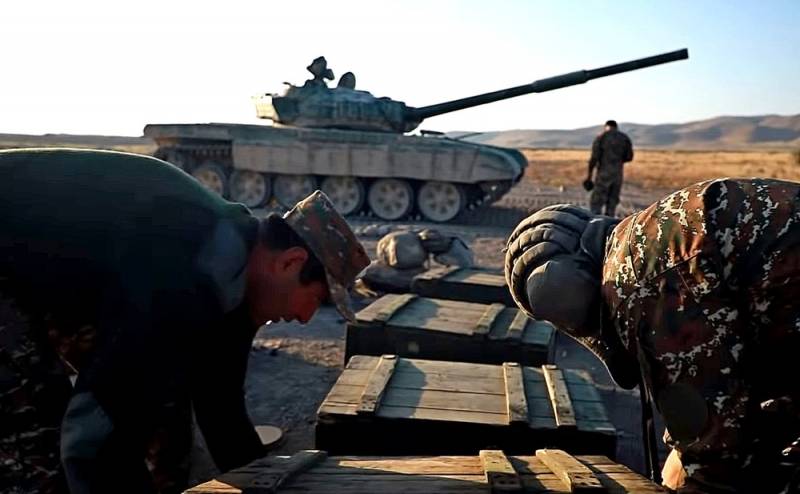 The last armed confrontation in Nagorno-Karabakh between Armenians and Azerbaijanis lasted from September 27 to November 10, 2020. It ended with the victory of Baku over Yerevan and Stepanakert and the introduction of Russian peacekeepers. For 44 days, the parties to the conflict have lost a certain amount of diverse
equipment
, but Western experts managed to calculate their losses.
The analysis showed that the Armenians lost 185 MBT, of which 66 units went to the Azerbaijanis in the form of trophies. The specified number consists of: 2 T-72AK, 16 T-72AV, 35 T-72B, 52 T-72A and 80 T-72 of unidentified modifications.
Also, the Armenians lost 43 units of infantry fighting vehicles, of which 22 became trophies of the Azerbaijani Armed Forces. These are 21 BMP-1, 19 BMP-2 and 3 unidentified BMP.
In addition, the Armenians lost 44 units of other armored vehicles, of which 20 were damaged by the Azerbaijanis. This number includes: 1 BTR-70, 1 BRM-1K, 2 MTLB with S-60, 2 ZSU-23-4 "Shilka", 2 BRDM-2, 2 unidentified AFVs, 4 BTS-4, 4 MTLBs with a charger -23, 6 MTLB and 20 MTLB with Zastava M55 charger.
The Armenians also lost 3 units of self-propelled anti-tank systems (two 9P148 "Konkurs" and one 1P149 "Shturm-S"), of which 2 became trophies of the Azerbaijani side.
With regard to cannon and rocket artillery, the situation looks no better. 147 units of towed guns were lost, of which 27 were received by Azerbaijanis as trophies. This number includes: 65 122-mm D-30 howitzers, 52 152-mm D-20 howitzers, 12 152-mm D-1 howitzers (model 1943), 8 152-mm Hyacinth-B cannons, 5 100 -mm anti-aircraft guns KS-19, 2 85-mm guns D-44, 2 100-mm MT-12 "Rapier" and 1 122-mm howitzer M-30.
Self-propelled artillery losses amounted to 19 units, of which 2 went to the Azerbaijani Armed Forces in the form of trophies. These are 15 122 mm 2S1 "Carnation" and 4 152 mm 2S3 "Akatsia". Losses of MLRS are also very significant and amount to 72 units. This number includes: 64 122 mm BM-21 Grad, 4 300 mm BM-30 Smerch, 2 Chinese 273 mm WM-80, 1 220 mm TOS-1A Solntsepek and 1 unidentified MLRS ...
The Armenians also lost 1 P-17 "Elbrus" ("Scud-B") OTRK, 26 air defense systems, 12 radars, 2 electronic warfare / electronic warfare vehicles, 1 Su-25 aircraft and 4 drones. Losses of automotive equipment are in the hundreds. There are 451 trucks alone.
The losses of the Azerbaijani Armed Forces do not seem so catastrophic against the background of the above figures. A total of 28 tanks were irretrievably lost: 1 T-72 Ural, 3 T-72A, 7 T-72AV / Aslan, 15 unidentified T-72 and 2 T-90S were captured by the Armenians.
The Azerbaijanis lost 23 BMP units (2 BMP-1, 1 BMP-2K, 1 BMP-3, 3 unidentified and 16 BMP-2). Other armored vehicles lost 27 units (8 BTR-70, 8 BTR-82A, 4 unidentified armored combat vehicles and 7 Plasan SandCat armored combat vehicles).
During the "counteroffensive" operation, the Azerbaijani Armed Forces lost 1 Mi-8/17 helicopter, 11 AN-2 aircraft (used to open the Armenian air defense system), 11 IAI Harop kamikaze UAVs, 2 SkyStriker kamikaze UAVs, 1 Orbiter 1K kamikaze UAV , 2 Bayraktar TB2 attack drones and 8 unidentified drones. However, such low losses of kamikaze UAVs raise questions, since the videos themselves, distributed by the Ministry of Defense of Azerbaijan during this time with their participation, are much larger.