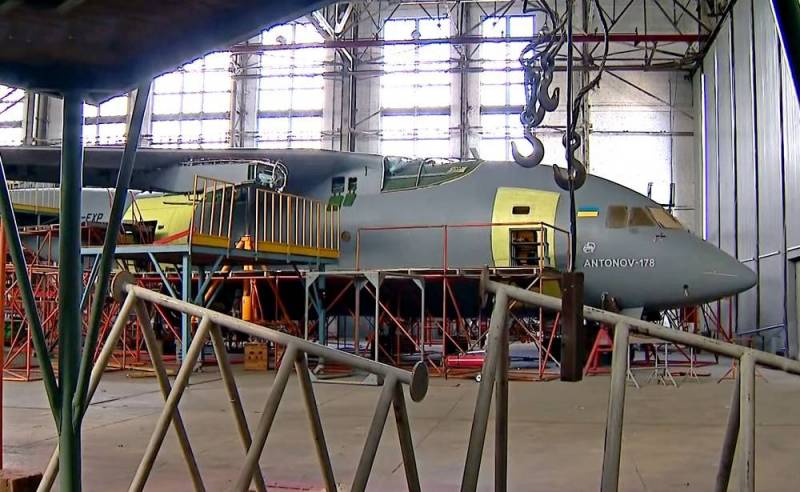 The Peruvian government has suspended the execution of a 2019 contract between the Ukrainian company Spetstechnoexport and the Peruvian Ministry of Internal Affairs for the purchase of one An-178 transport aircraft for $ 65 million, the Federación de Periodistas del Perú writes.
Some time ago, in Lima, Kiev was suspected of untidiness and began to take an interest in the indicated aircraft. In June, it turned out that the aircraft was still at the assembly stage and that there was no talk of any certification. In June, Ukraine's Ambassador to Peru, Igor Tumasov, confirmed that the aircraft under construction did not yet have any airworthiness certificate, and in September Ukrainian President Volodymyr Zelenskyy fired the diplomat.
After that, the corruption scandal surrounding General Alfredo Vildoso Rojas, who was under investigation, who was the head of the police aviation and who was personally present at the signing of the contract, received a second wind. The general is currently in prison by the decision of the First Investigative Court of Callao in connection with an open corruption case related to the purchase of 35 thousand masks and other equipment to ensure the biosecurity of police aviation employees during the COVID-19 pandemic, worth about $ 558,5 thousand.
It should be noted that the original Ukrainian An-178 consists of a third of Russian components. But the Antonov State Enterprise decided to replace them with parts from Western countries and to create a virtually new aircraft by the end of 2020. Then fly a certain number of hours and re-certification. After that, transfer the plane to Peru in 2021. Moreover, the Peruvians immediately transferred an advance of $ 19,2 million.
But the Ukrainians will definitely not meet the specified deadlines, since in order to obtain an international certificate (not to be confused with the domestic one), you need to have 5 ready-made prototypes of the aircraft and a total flight time of about 2 thousand hours. Moreover, the State Corporation "Ukroboronprom" announced that Peru will become a "testing ground" for the updated An-178. This left the Peruvians in shock.
Peru is a highland country that is interested in expanding its aircraft fleet. However, she does not need an uncertified aircraft, which could be unsafe. The purchase of this aircraft was not dictated by the national interests of Peru and did not take into account some of the rules of Peruvian legislation. It seems that Kiev has developed an international corruption scheme. But in Lima they saw through this deception and are now thinking about purchasing the Il-112 from Moscow, which is a real alternative to the An-178.