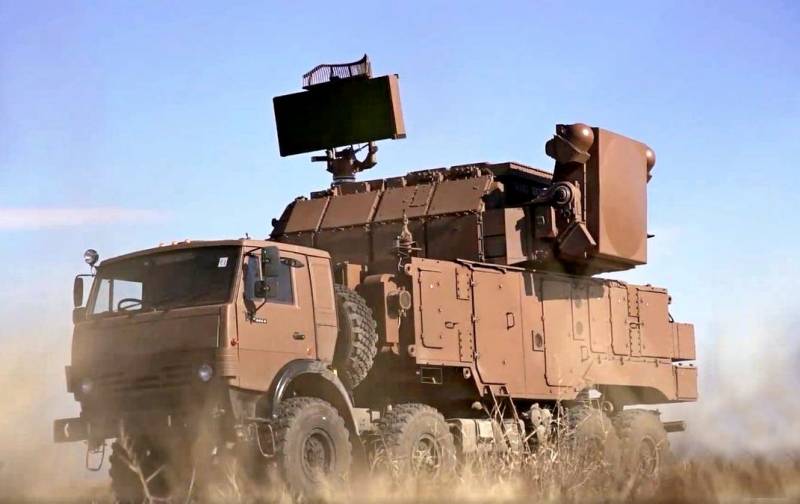 The Azerbaijani Defense Ministry has spread footage of the destruction of the Tor-M2KM air defense system of the Armenian Armed Forces on the territory of Nagorno-Karabakh. The Nagorno-Karabakh Defense Army has no such complexes. But the Armenians decided to use them against Azerbaijani aircraft and drones, since the AOC has lost a significant amount of air defense systems.
The video presented is dated November 9, 2020. It shows how the specified air defense system is in position, and then tries to hide in the village, dropping into a structure that resembles a large garage or a small workshop. However, he was monitored from a drone and the rocket arrives right on target.
Armenian soldiers begin to extinguish the fire, disassemble the wreckage and fuss around the damaged air defense system. Azerbaijanis see all this and send a second missile. It left little chance of survival for the Armenian military. After a while, the third ammunition arrives, it is more powerful than the previous two. The Azerbaijanis decided to completely destroy the structure itself, suspecting that there might be something else in it besides the specified air defense system.
In this regard, it can be stated that Armenia lost in battle the newest Tor-M2KM air defense system supplied by Russia. In December 2019, Armenian Prime Minister Nikol Pashinyan personally met these complexes by writing a corresponding post on his Facebook. They were considered
answer
Yerevan for the presence of Turkish and Israeli drones near Baku.
In addition, on November 9, the Ministry of Defense of Azerbaijan also published footage of the destruction of the Armenian Osa air defense system by its drone.
We remind you that on this day the leaders of Armenia, Azerbaijan and Russia
deal
on the introduction of Russian peacekeepers into the region, the withdrawal of Armenian troops and the transfer of part of the territories of Baku.