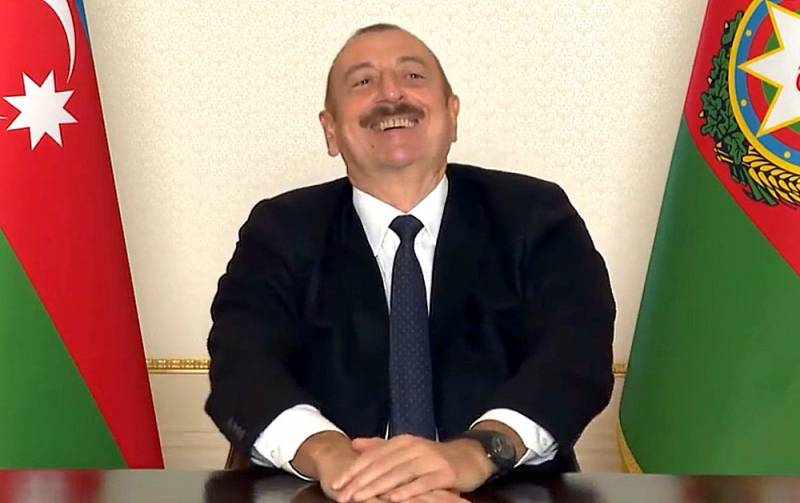 On November 10, 2020, President of Azerbaijan Ilham Aliyev published a video message to the nation. He told the residents of the country about the agreement on Nagorno-Karabakh, concluded yesterday between Yerevan and Baku with the mediation of Moscow.
In his speech, the Azerbaijani leader also made a number of emotional statements. Aliyev touched upon the status of Nagorno-Karabakh. He drew attention to the fact that the approved document contains not a single phrase about the further status of the region. In addition, he sent several phrases to Armenian Prime Minister Nikol Pashinyan, openly ridiculing him.
Another question that I want to convey to my dear people. <...> Where are the demands of the Armenian side regarding the independence of Nagorno-Karabakh? When I offered them autonomy, they did not agree, claiming that Nagorno-Karabakh is an independent state. <…> Not a single phrase is here. Pashinyan, what happened? What happened? You built the road to Jebrail. I danced. What happened to the status? The status went to hell. Died. And while I am president, it will not. And therefore this document is of great importance. I think the Azerbaijani people will pay attention to him
- Aliyev said in a video posted on the official website of the President of Azerbaijan.
We remind you that Yerevan, Baku and Moscow
deal
on the introduction of Russian peacekeepers into the region, the withdrawal of Armenian troops and the transfer of part of the territories of Baku. At the same time, the Azerbaijani side wanted the Turkish military to participate in the peacekeeping mission, but this issue was not agreed upon and was not included in the final document. From Armenia already
сообщили
that only "blue helmets" from Russia will enter Nagorno-Karabakh, and the Russian side has confirmed this information.