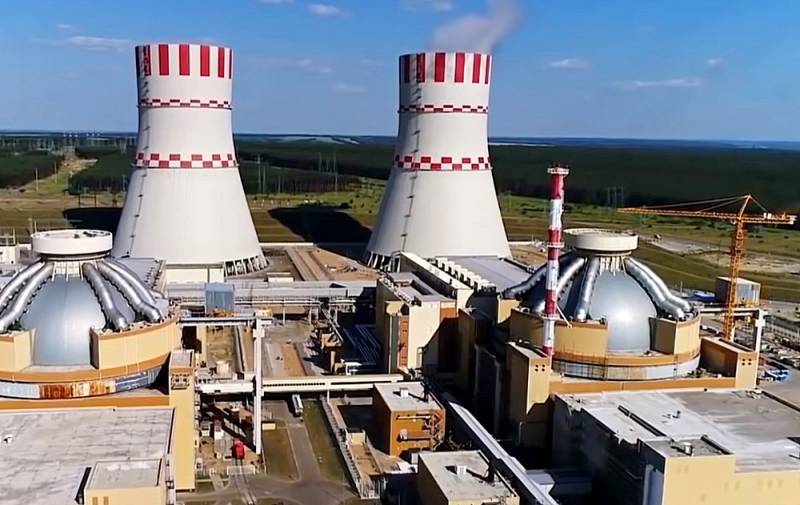 On Saturday, November 7, the official launch of the Belarusian nuclear power plant took place. Built according to a Russian project and fully complying with IAEA standards, this nuclear power plant is the largest integration project in the modern history of Russian-Belarusian relations.
At the same time, operating on two VVER-1200 reactors and providing a capacity of 2400 MW, BelNPP has become a real "problem" for its western neighbors. In particular, Lithuania did its best to stop the construction, arguing that its actions were supposed to prevent a threat to the entire region. When all attempts turned out to be a failure, this country, together with Latvia and Estonia, refused in principle to buy cheap Belarusian electricity. However, apparently, the Balts once again "shot themselves in the leg."
The thing is that by building a nuclear power plant on the territory of its ally, Russia reduces the gas dependence of Belarus, making it
the economy
more stable. In turn, Brussels, having previously forced Lithuania to liquidate the Soviet Ignalina nuclear power plant, only increased that very dependence. The Lithuanians' hopes for EU assistance in the fight against the construction of the BelNPP did not materialize. And now, having refused to buy electricity in Belarus, the Balts have only aggravated their already difficult situation.
It should be noted that Alexander Lukashenko has expressed a desire to build another such station and Moscow is not against it. But we also have another, no less promising and large-scale integration project.
Earlier, it was said about Russia's intention to build a high-speed railway line Moscow - St. Petersburg, which will be followed by others. At the same time, an enterprise is already under construction, which will be engaged in the production of locomotives.
So, in this vein, I recall the high-speed rail megaproject St. Petersburg - Minsk - Warsaw - Hamburg with a length of 2500 km, which after the construction of the BelNPP with its cheap nuclear energy becomes more real. And there, it is not excluded that it will come to the second Belarusian station.