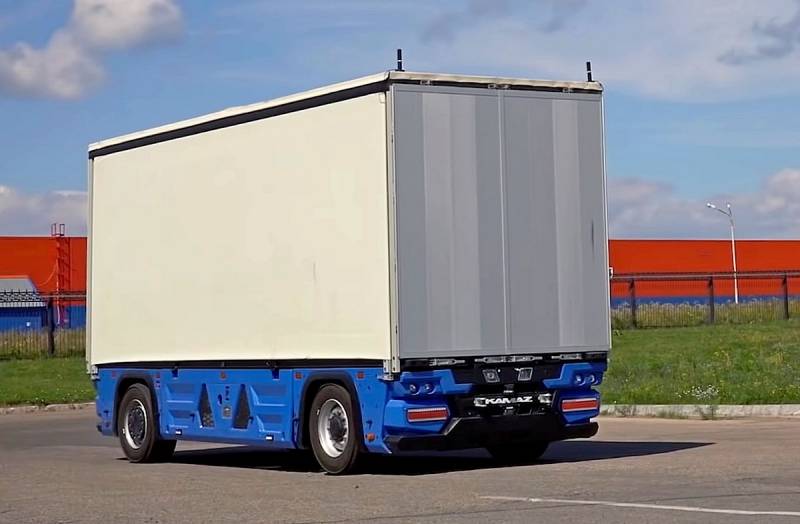 Cabless KamAZ-3373 "Shuttle" was first demonstrated in motion. The corresponding YouTube video was published by the developer the day before.
Recall that for the first time the KamAZ concern spoke about an unusual drone at the beginning of the year. The concept provides for complete autonomy, and therefore there is no cab in the car. According to the developers, the eight-meter "van on wheels" will be able to transport loads up to 10 tons, developing a speed of up to 40 km / h.
Now the video released reveals some additional details about the unmanned Shuttle. In particular, the video demonstrates the ability of KamAZ-3373 to perform a turn along the minimum radius. At the same time, the concern claims that their brainchild will also be able to move in "crab mode".
During the demonstration of the prototype, some technical characteristics were also announced. For example, an empty "Shuttle" has a mass of 19 tons, the power reserve of a unique Russian truck is 50 km, and charging 60-watt batteries takes 5 hours.
It is worth noting that KamAZ-3373 received another indisputable advantage. Thanks to the even distribution of sensors, the symmetry of the lighting fixtures and the same load on each axle, either side of the truck can be either front or rear. Moreover, loading can also be done from both sides.
Representatives of the domestic auto concern say that the platform will support not only the installation of an onboard van, but also a dump body. Moreover, the developer has provided for the option of coupling several "Chelnoks" to create self-driving road trains.
It is assumed that the unmanned KamAZ-3373 will be presented early next year.